While Citi is an advertising partner of HustlerMoneyBlog, the opinions and beliefs in this article are those of the author alone, who makes every effort to ensure the accuracy of the information.
*Offer Expired*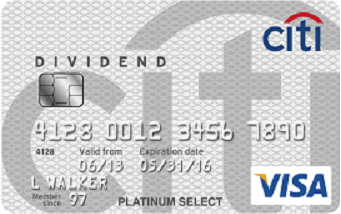 The Citi® Dividend Platinum Select® Visa® Card offers a $100 cash back when you spend $500 in the first 3 months of account opening, gives you more ways to earn cash than many cards do. Enjoy generous rewards on credit card purchases and a bevy of other benefits- all with no annual fee and 0% interest for the next 12 months on purchases and balance transfers. Earn 5% cash back this quarter and every quarter on changing categories like home improvement, travel and more– as well as 1% cash back on all other eligible purchases. This is also a good card for balance transfers from higher interest cards because you can get a small cash back reward. The reward basically covers the fees you'll pay for these transactions!
Citi® Dividend Platinum Select® Visa® Card Features:
Earn $100 cash back after $500 in purchases within the first 3 months of account opening
Earn 5% CASH BACK in categories every quarter. Right now, on eligible purchases within the Hilton Portfolio, car rental agencies, movie theaters and theme parks from 7/1/14 – 9/30/14
Enrollment each quarter is quick and easy
Earn 1% cash back on all other purchases.
The total cash back earned with the card is $300 per calendar year, excluding the $100 cash back with this offer. See Citi Dividend Card Reward Program Information.
0% Intro APR on Purchases and Balance Transfers for 12 months. After that, the APR will be 12.99%-22.99% variable based on your creditworthiness*
No Annual Fee*
Click Apply Now to see pricing details
Extended Warranty: Visa provides one additional year of extended coverage free of charge for all eligible purchases.
Trip Interruption/Cancellation Coverage:  Enjoy up to $1,500 in coverage with this benefit on eligible travel.
Lost Luggage Coverage: In the unfortunate event that your checked luggage may be lost, stolen or damaged, Citi offers up to $3,000 in coverage.
Price Protection: Citi will pay the difference under certain circumstances if the advertised price of a purchase drops within 60 days.
Retail Purchase Protection: Citi Platinum Select Visa card will provide up to $1,000 in coverage for 90 days after purchase in the event of theft/fire/accidental breakage on qualifying items.
Common Carrier Travel Accident Insurance: Highly unlikely scenario, but they will pay out for death/dismemberment during common carrier travel accidents.
Car Rental Loss & Damage Insurance: If you decline the rental car company's collision, loss/damage waiver, they offer secondary insurance after your primary regular car insurance.
EMV Chip Technology: Enjoy global acceptance and enhanced security when you use your credit card at merchants that use chip enabled terminals to accept your payment.
Not just for the $100 signing bonus, the Citi® Dividend Platinum Select® Visa® Card provides a very generous cash back program with 12 months of 0% intro APR for purchases and balance transfers. The only drawback is the $300 cap per year on the rewards. However, I find it unlikely maxing out the rewards if you can spread your spending across multiple reward credit cards. Since it has no annual fee, this Citi Dividend Card is a great card to add to your cash-back card arsenal. Start earning and apply today to use the convenience of this credit card! Find all credit card bonuses on our exclusive list!