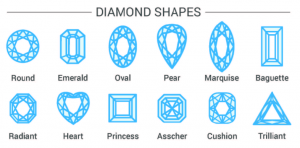 Diamonds don't always come in the stereotypical round shape portrayed everywhere in the media. They can come in all sorts of shapes and sizes like an emerald shape or even a heart shape! Knowing the different shapes of diamonds can help you find the best fit and style for your taste and preference. In this article, we are going to go over the most popular diamond shape variations and what the difference between Diamond Cuts and Diamond Shapes is.


At Blue Nile, their jewelry is designed and crafted with high-caliber, quality materials and inspected with exceptionally high standard.
• Highest Diamond Quality Standard & Authenticity Certified
• Get More For Less & Always Have The Best
• Best Price: Find a comparable GIA graded diamond for less and they'll match the price. Pay 20% up to 40% less than traditional jewelers


12 Most Common Diamond Shapes:
Round Brilliant Cut Diamonds-

This Diamond shape is the most popular of them all representing 2/3's of all diamonds sold. It is the best at showing brilliance and reflection.
Length to width ratio: The best looking diamonds have a 1.0-1.3 length to width ratio.
Buying tip: The most important part to finding a high quality diamond is its cut. To learn more about Cut, one of the 4 C's of Diamonds, check out our post about the 4 C's of Diamonds: Cut, Clarity, Color, & Carat.
Strong points: The Round Brilliant Cut is popular for its classic and timeless look. Round Brilliant Cut diamonds are often used for engagement rings, necklaces and other fine pieces.

Princess Cut Diamonds

The Princess Cut is next in line for popularity. It achieves the best brilliance out of the other diamond shapes and is offered as either a square or rectangle shape.
Length to width ratio: Square cuts should fall in the 1.0- 1.05 length to width ratio, while a rectangular Princess Cut, should fall in a 1.5-2.0 range.
Buying tip: Purchase a Princess Cut Diamond with a set of prongs on all four corners. Inclusions are usually okay if they're towards the outside of the diamond because they will be covered by the prongs.
Strong points: The Princess Cut allows gives you a square looking outline with the near brilliance to the Round Cut. The price per carat for a Princess Cut is typically lower than

Emerald Cut Diamonds

This cut is similar to the way Jewelers cut emeralds and is available in square and rectangle shapes.
Length to width ratio: Most emerald cuts fall in 1.30- 1.60 length to width ratio and is mostly bought in 1.50 length to width ratio.
Buying tip: Its large base makes inclusions more visible, so its recommended to use either a VS1 or VS2 emerald shape.
Strong points: Emerald cut shows off size the best. Emerald Cuts are for diamonds with a large size at a lower price.

Cushion Cut Diamonds

Cushion Cuts usually look like a pillow with its square shape with rounded corners. Its beauty is in its emphasis on fire.
Length to width ratio: Cushions are mostly shaped as a square, but can be rectangular as well. Squares should be kept within a 1.0 -1.09 length to width ratio, while slight rectangles usually kept at 1.15-1.25 in ratio.
Buying tip: As a general guideline, try to stick to Cushions with a depth under 70% and a table under 70%. This will ensure brilliance and fire is maintained throughout the depth of the diamond.
Strong points: Cushion diamonds are best for personal flairs and custom looks. Cushions are very classic and unique in look.

Asscher Cut Diamonds

Asscher Cuts are similar to the emerald, but with a much smaller table. Brilliance is given by its reflections off its small layered facets.
Length to width ratio: Go for a 1.0-1.05 length to width ratio for brilliance
Buying tip: The Asscher cut is prized for its clarity. Try to purchase a diamond with low color to emphasize its clearness.
Strong points: Asscher cuts are mostly known for its brilliance and clarity.

Pear Shaped Diamond

Elegant and timeless. The pear shape's smaller side is pointed towards the wearer's heart and is valued for its symmetry.
Length to width ratio: Length to width ratio ranges from 1.45-1.75. If you want, you can go for a more narrow look.
Buying tip: Pear shaped Diamonds have a feature called a "Bowtie," which is a dark area running across the center of the diamond. If it is too prominent in the diamond and affects the look, don't consider it.
Strong points: Pear shape diamonds are hard to find and is a change in pace from the typical round diamond. It also prides itself in hiding inclusions and flaws.

Oval Diamonds

Oval Diamonds have a high brilliance and fire and is a good choice for people who want to have a unique look.
Length to width ratio: Look for the Oval Diamond that you prefer, but most Oval Diamonds are ranged in a ratio of 1.30-1.50.
Buying tip: Be aware of the Bowtie, as it can darken the diamond's aesthetic.
Strong points: Ovals are usually more durable and are typically cheaper than Brilliant Round Cuts.

Heart Shaped Diamond

The symbol of love, a Heart Diamond. The most important part is its symmetry and where it dips in the middle.
Length to width ratio: The ideal length to width ratio is 1.00. Lower ratio's make a chubbier look while higher ratios make the heart more skinny looking.
Buying tip: Focus on higher carats of 1 or 2.
Strong points: The heart shape is a premium cut and can gain more value over time.

Radiant Cut Diamonds

Radiant Cuts are dazzling and brilliant. It is second only to the Brilliant Round Cut. It prides itself on brilliance and fire.
Length to width ratio: A 1.0-1.05 is an ideal range for a square cut. Rectangular shapes may have a ratio of up to 2.0.
Buying tip: Color is not too important. An "H" Color rate is sufficient enough, so that Cut can be more focused on.
Strong points: Radiants are cut at many angles leading to inclusions and flaws being hidden more easily. It is also more durable and can be good for people with a lot of activity.

Marquise Diamond

Marquise Diamonds look like an human eye. It is great for making hands look more elongated and slender.
Length to width ratio: Go for a range between 1.20- 1.70.
Buying tip: Symmetry is vital and make sure the ends align with each other. Make sure the prongs hold the diamond at its ends, so that inclusions are hidden.
Strong points: Marquise appear to be larger than most diamonds. Its elongated figure makes hand seem more slender and is known for its unique shape.

Baguette

Baguette Diamonds are important for their clarity.
Length to width ratio: Length to width ratios usually range from 1.50-2.40 and can change based on preference.
Buying tip: Baguettes are often good for complementing other pieces. Be sure to have no inclusions or flaws, so that the clarity is emphasized.
Strong points: Even with low carat weight, Baguettes still appear to be large.

Trillion

Trillion Diamonds are extremely unique and are sure to turn eyes.
Length to width ratio: The ideal length to width ratio for a Trillion is 1.0-1.10.
Buying tip: Trillions are amazing at being the centerpiece or sidepiece. Inclusions are typically hidden by the prongs or jewelry.
Strong points: The Trillion has a certain flair to it. It is very daring and exquisite. Trillions often appear to be larger than other diamonds, even when they are a small carat weight.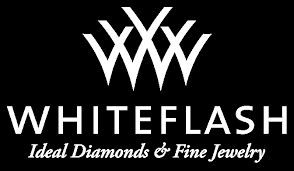 At Whiteflash, they're all about the Ideal Cut Diamond carrying the largest inventory & best selection of AGS certified ideal diamonds in the world!
• Exclusive provider of their own A CUT ABOVE® Super Ideal Diamonds
• Finest designer brands such as Tacori, Verragio, Simon G, Ritani, Danhov, Vatche, and Benchmark
• Entire staff GIA trained including several Graduate Gemologists & Diamond Graduates
• Complete Satisfaction Money Back Guarantee


Diamond Shape Vs. Diamond Cut
Diamond Shape and Cut may seem like they're the same concepts, but are actually two different things.
Diamond Shape refers to the outside outline of the diamond's figure. For example, Pear shape is literally the shape of the diamond. While Diamond Cuts are the facets, symmetry, dimensions and reflective qualities of the diamond. Cuts refer to how deep or shallow the diamond is cut or how brilliant or fiery a diamond looks. The Cut is essential to the pricing of diamonds.
When you are shopping for diamonds, first start with what shape of the diamond you want. After determining your favorite shape, move onto what cut of diamond fits your style and preference.


At James Allen, their diamond and gemstone fine jewelry collection offers hand-crafted pieces of unforgettable luxury that are perfect for any occasion.
• Their mission is to offer consumers online the highest quality diamonds & largest selection at the best price.
• 150,000+ certified conflict-free diamonds, all photographed in 360° HD
• 24/7 Diamond Experts, with option for Real-Time Diamond Inspections
• Lifetime Warranty, Free Shipping Worldwide
• Hassle-Free Returns with 100% Money Back Guarantee


Bottom Line:
The Diamond's Shape is essential to picking out the best diamonds for you or your loved one. Understanding them can help you purchase the best diamond for your money.
Always consider what is preferred by the person that the diamond is being bought for because of the different senses of style. You want to be able to buy the jewelry for the person that matches what they love and comfortable with wearing.
If you're still feeling overwhelmed by the information, be sure to check out our other informational articles about Diamonds like the 4 C's of Diamonds and a guide on How to Buy Diamonds Online!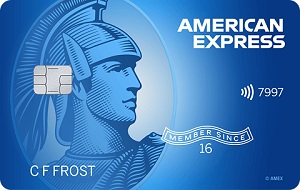 The Blue Cash Everyday® Card from American Express offers $200 statement credit after you spend $2,000 in purchases on your new Card within the first 6 months.

Balance Transfer is back! Enjoy 0% intro APR on purchases and balance transfers for 15 months from the date of account opening. After that, 18.99% to 29.99% variable APR.

You'll earn:
• 3% Cash Back at U.S. supermarkets on up to $6,000 per year in purchases, then 1%.
• 3% Cash Back on U.S. online retail purchases, on up to $6,000 per year, then 1%.
• 3% Cash Back at U.S. gas stations, on up to $6,000 per year, then 1%.
• 1% back on other eligible purchases.
• Get $7 back each month after using your Blue Cash Every Card to spend $12.99 or more each month on an eligible subscription to The Disney Bundle, which includes Disney+, Hulu, and ESPN+. Enrollment required.

Cash back is received in the form of Reward Dollars that can be easily redeemed for statement credits.

There are no annual fees with this card (See Rates & Fees).

Terms Apply.