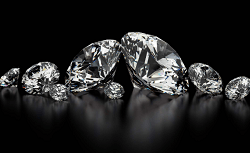 If you plan on purchasing a diamond for your significant other, or maybe even for yourself, be sure to do your research before purchasing a diamond. Know all the aspects of a diamond so you can maximize the value of your diamond.
You've probably already got a set budget for your next diamond with this goal in mind – get the biggest and shiniest diamond you can.
But how do you know you're getting your money's worth? Well continue reading down below to find out.


At James Allen, their diamond and gemstone fine jewelry collection offers hand-crafted pieces of unforgettable luxury that are perfect for any occasion.
• Their mission is to offer consumers online the highest quality diamonds & largest selection at the best price.
• 150,000+ certified conflict-free diamonds, all photographed in 360° HD
• 24/7 Diamond Experts, with option for Real-Time Diamond Inspections
• Lifetime Warranty, Free Shipping Worldwide
• Hassle-Free Returns with 100% Money Back Guarantee


How Much Is a Diamond?
Here's a rough guide on current diamond prices on the market:
A 0.5 carat diamond price is $1,500
A 1.0 carat diamond is $4,500 – $6,000
A 2.0 carat diamond is $18,000 – $21,000
Keep in mind that this is just a very vague guide on prices. Diamonds can easily have prices beyond $21,000. These prices indicate where you get the best balance of price, quality, and beauty in a diamond.
Of course there are more factors than just the carat that affects the pricing.
Diamond Prices
In this guide we'll be going over tips and tricks that no one knows when purchasing a diamond. However, before we get to that, here is something that you absolutely need to know about diamonds.
Quality (4 C's): Besides the Carat of a diamond, you also have the cut, color, and clarity. All these factors affect the price of a diamond. The more flawless and colorless the rock, the higher the prices. But here's a secret: save yourself money on color and clarity. These characteristics can't usually be seen by the average person. All you need is a diamond that looks eye clean and white.
Certification: If you find a super cheap diamond with a price that seems too good to be true, odds are that it's not certified by a reputable lab. Always make sure that the diamond you're about to purchase has been certified by a reputable lab. This is how you know that the quality and pricing of the rock is truthfully advertised.Diamonds certified by companies like GIA and AGS are recommended. These labs have the highest quality of standard and are some of the top reputable labs.
Where To Buy: Jeweler markup has the biggest affect on diamond pricing. The same quality stone can be priced many times higher when it comes in a trademark little blue box.To avoid paying high markup prices, we recommend shopping online at places like James Allen. Online retailers can cost as much as 50% less than big name jewelry stores.
1 Carat Diamond
The average size of an engagement ring is around 1 carat. So how much is the price of a 1 carat diamond?
$2,000 to $25,000 for round
$2,000 to $10,000 for princess
$1,700 to $17,000 for cushion
To get the best bang for your buck, a 1 carat diamond should cost around $6,000. This will give you an ideal H color and VS2 clarity. We'll explain what those mean further below.
This chart indicates the average prices of different Colors and Clarity combinations that you can find on the market.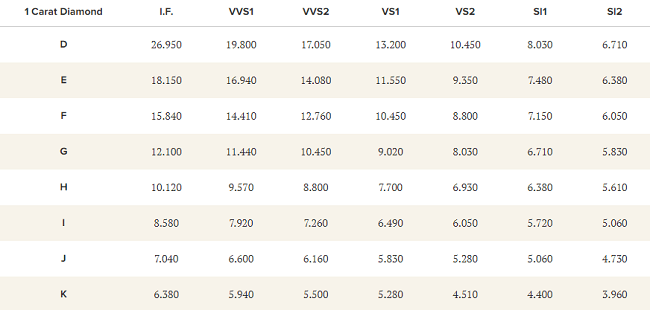 The boxes with H Color and VS2/SI1 clarity will be your best bet on getting your money's worth on a 1 carat diamond. If you manage of find an eye-clean diamond at a SI1 level, that's even more money saved.
2 Carat Diamond
Here is a price chart for ideal prices on 2 carat diamonds: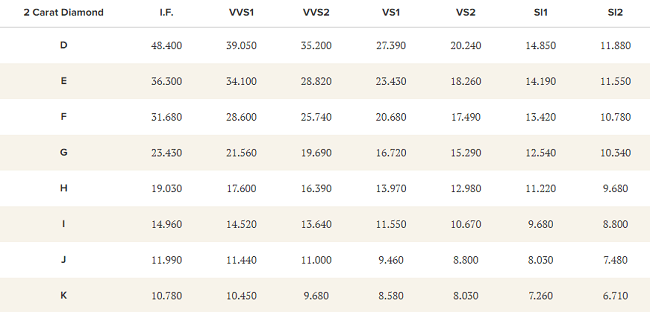 Again we recommend not only H color with VS2/SI1 clarity, but the G color with the same clarity as well. If you don't mind fancy shapes in a diamond, then you can easily knock up to 40% off the price tag.
How Prices are Calculated
There are no set prices on diamonds. Each diamond is valued individually based on the 4 c's mentioned earlier. However, the price can be estimated based solely on carat size. The bigger the carat, the bigger the size, and the bigger the price tag. Finding a larger diamond is significantly harder than finding a smaller diamond, which is why there is such a big price jump between each carat level.

How To Calculate Price Per Carat
Here's a quick way to calculate an estimated price of a diamond using carats.
If a 0.91 carat G SI1 stone is $5,500 per carat, the diamond price would be $5,005 (0.91 x $5,500)
If a 1.2 carat H VS2 stone is $7,200 per carat, the diamond price would be $8,640 (1.2 x $7,200)
Here's another example:
Let's say you're deciding between two diamonds with the same color, clarity, and cut. Both look the same in size.
A 0.88 carat diamond that costs $5,000. The per carat price is $5,682 ($5,000/0.88)
A 0.82 carat diamond that costs $4,800. The per carat price is $5,853 ($4,800/0.82)
Even though the 2nd diamond costs less, it's actually more per carat.
Always take your time in calculating the worth of a diamond in order to get the most bang for your buck. However, when doing this method of price comparison, you must always pick diamonds that are the same color, cut, clarity, and lab certification. You also need to look at actual appearance. This means whether flaws, tints, or haziness are visible.
Diamond Price Chart
The Rapaport is a price chart that is intended to be a baseline pricing for individual loose diamonds. An updated chart is released every Friday and represents the current market prices of diamonds.
This is an example of what one of these reports look like (Note that this is a past report and does not accurately represents current market prices):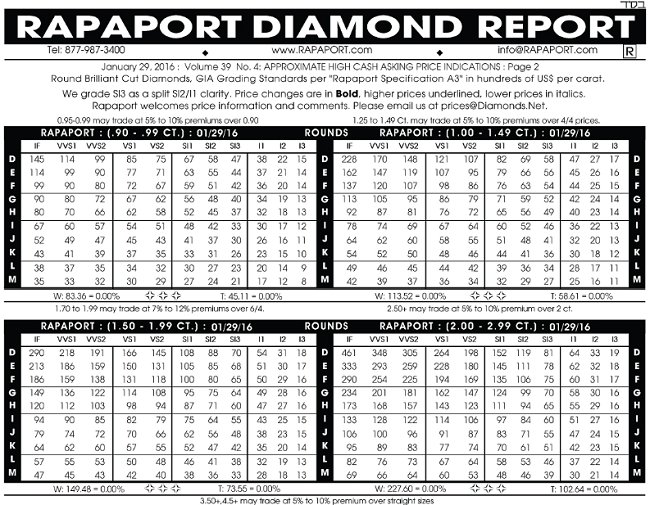 It's shown as a grid comparison and each number is in the hundreds (56 = $5,600). The prices are listed per carat and you have to multiply your carat weight by the number to arrive at the price of the diamond.
There are other similar reports that you can look into as well:
RapNet: This is part of Rapaport's Diamond Trading network. The prices listed on here is the actual average asking price by sellers. This is only accessible to jewelers and dealers.
IDEX (International Diamond Exchange): The prices listed on the IDEX report is higher than Rapaport's. Diamond retailers would usually apply a discount when selling.
You must be wondering, "If there's a whole chart, why don't we just use that for pricing?" It's because there's a list of things that this chart doesn't take into consideration:
Cut. Prices listed on Rapaport take everything except cut into consideration which can mean a difference of thousands of dollars. It's not just a little price change, it's a very significant price change based on the cut.
Diamonds of the same grade can look very different. A SI1 Diamonds can have visible flaws while another SI1 diamond is completely eye-clean. It all comes down to seeing the diamond in person.
The prices are listed higher. The prices listed on Rapaport are "high asking prices." Retailers will generally apply a discount, but it's not guaranteed. Dealers will show ignorant customers Rapaports prices and say their giving them a good deal, but could actually still be ripping you off.
What we want you to take from this post is to not get the biggest shiniest diamond, but one where you're getting your money's worth. Remember to take what we've said so far into consideration when purchasing your own diamond.
Current Diamond Sweet Spot Prices
Here are the sweet spots (the price range where you'll get your money's worth) for each carat:
0.5 carat: $1,500
0.75 carat: $3,000
0.9 carat: $4,800
1 carat: $5,550 – $6,000
2 carat: $18,000 – $25,000
The internet can provide you a diamond calculator, but you can't always rely on that. You have to see it in person and consider whether or not it's worth to you.
How To Get Low Diamond Prices
This section will to into depth on each of the 4 c's. It's best to understand what they mean and how they factor into the pricing of the diamond.
By now hopefully you remember what the 4 c's are – cut, clarity, color, and carat. These factors determine the size, beauty, and shininess of your diamond. However, not every C carries the same weight.
We don't want you to waste your money, so understand that some C's just aren't as important as others. You could be spending money on features that you don't even recognize.
Some common mistakes that occur when purchasing a diamond include:
Purchasing a diamond high in color and clarity thinking that it will be the shiniest.
Assuming that all diamonds are cut the same and that a higher color and clarity are needed.
Placing way too high of a priority on carat and not having a budget big enough for clarity, cut, and color.
Is Carat The Most Important C?
A general trend in most diamond shoppers is to prioritize carat. They may think bigger is better right? Unfortunately, that isn't the case when it comes to diamonds.
Carat is the most obvious out of the 4 c's. When someone see's a 3 carat diamond, they automatically think, "wow, that's a huge rock." They don't always admire the clarity and color of the diamond.
But what even is a carat? The carat of a diamond refers to the weight of the diamond. The bigger the carat, the heavier it is. One carat is approximately the weight of a paper clip – 0.2 grams.
Note that the carat of a diamond has the largest impact on price. Here's a quick glimpse at how the carat of a diamond can drastically change the price.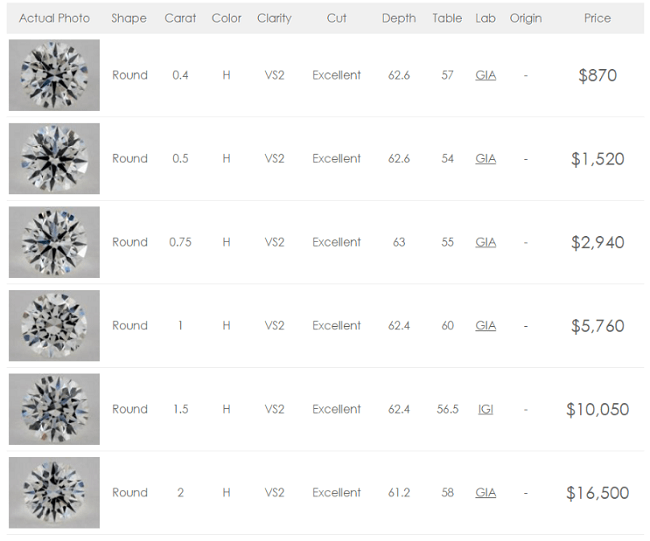 You can see the price nearly double from 0.4 to 0.5, then from 0.5 to 0.75 and so on. These all have the same color and clarity to help show the significance in price difference when it comes to the carat of the diamond.
There's a general pattern that many don't notice though when it comes to pricing by carat. The price of a diamond can drop significantly if it's just under a whole number. For example, a diamond can cost $5,900 at 1 carat, but can drop almost $1,000 dollars to $4,900 at 0.91 carats. On first glace no one will even notice a difference. Keep that in mind when shopping for your diamond.
Why You Should Pay Attention to Cut
We'll say this now and again and again so be sure to remember this. Cut is the most important factor and should never be skimped out on.
If anything, pour any additional budget into this area.
The reason we say this is because cut is what makes the diamond shiny and sparkly. And it can literally make the diamond so sparkly that it hides inclusions and masks slight color.
A common misconception is that cut refers to the shape. Get that out of your head! Cut actually refers to the proportion, symmetry, and polish of the diamond. A badly done cut, or a rough diamond, will have no shine and can showcase all flaws to those who look at it. A diamond only sparkles because of how it's cut and how light bounces off of each angle and face in the diamond.
A well-cut diamond will have ideal proportions and excellent symmetry and polish. The proportions and facets are cut precisely to reflect the most amount of light. This means that the diamond will give off the most brilliance, fire, and scintillation.

Take a look at how the cut reflects light back out at anyone looking at the diamond. A well cut diamond should reflect light right back to the viewer. This is what gives it the shine and sparkle.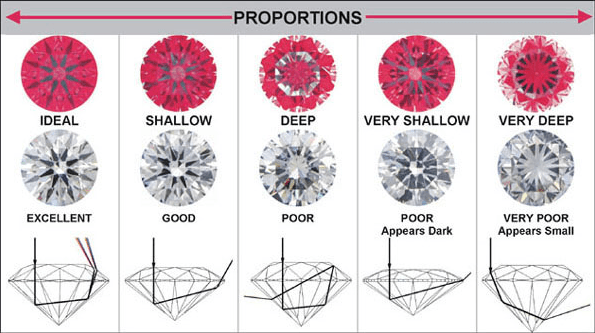 Take a look at the picture above. It showcases each cut and it's respective shininess. An excellent cut will show all color, give off a perfect round shape, and will reflect the most light. Additionally, it's almost perfectly symmetrical.
If you take a look at the colored diamonds from right to left, look at how the cut affects the amount of color reflected back to the viewer. The lack of color indicates light leakage, which means less shininess and sparkle.
Aesthetically, cut also make a huge impact on beauty.
Do Not cheap out when it comes to cut. A 3 carat diamond with a bad cut will look significantly worse than a 1 carat diamond with an excellent cut.
As a matter of fact, the cut can make the diamond appear larger. Check out this example: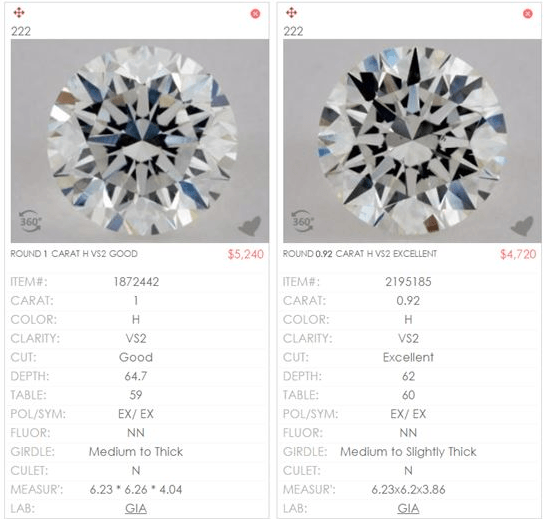 The diamond on the left is 1.00 carat and has a "good" cut. The surface area is 6.23×6.26mm.
The diamond on the right weighs in at 0.92 carats and has an "excellent" cut. The surface area is 6.23×6.2mm.
The two diamonds have the same surface area, so face up, they are both the exact same size. But because the poorer cut of the first one, about 10% of the carat weight is wasted on the deep cut (just to hit the 1 carat mark). So, it's not going to appear as brilliant as the other diamond.
Here's a comparison between the prices of differently cut diamonds.



It's not as large of a jump in price compared to carat and now you understand how important cut is compared to carat. I'll say it one last time. Do Not Skimp Out On Cut!
If your budget can't afford an excellent or true heart cut, we recommend going down in other areas before you go down in cut.
Does Color Matter?
A lot of people think that color and clarity affect how brilliant the diamond is. In fact, they have nothing to do with it.
However, color does still make an impact on the overall beauty of the ring.
Color refers to the yellow tint in a colorless diamond. The color ranges from D (completely colorless) to Z (obvious yellow/brown tint), though diamond retailers typically don't sell anything less than K.

Finding a true colorless diamond is extremely rare, and if you do happen to come across one, there's a high price to pay. Most diamonds will come with a yellow tint to it, but don't stress out too much about it, because most of the time it's undetectable to the eye.
Just like carats, the price jumps in color levels is significant.

Don't be fooled into buying a colorless diamond that's out of your budget. Most people that look at your rock won't be able to tell the difference between true colorless and mostly colorless. It's quite difficult to see with the naked eye.
To get the most bang for your buck, we recommend going for H color on diamonds. This tier is the regarded as the tipping point between colorless and yellow tinted. As previously stated, mostly everyone you run into won't be able to see the difference in color.
It's always important to note that;
the color of the setting can make a huge impact. H is a safe bet if you're going with a platinum or white gold band. But if you're going for a yellow gold or rose gold band, then even H may be overkill. A diamond will naturally pick up the color of the band, so even the iciest of diamonds will take on a warmer tint with a yellow gold band. In this case, you can safely go down to a J or even K.
Clarity
The clarity characteristic of a diamond refers to flaws that can be found on the diamond.
There are 2 types of flaws that can found on a diamond:
Inclusions – flaws found on the inside
Blemishes – flaws found on the surface of the diamond
If it makes you feel better, it doesn't matter if your diamond may have some flaws, because most diamonds already do to begin with. It's just important that you get a diamond that is eye-clean. Don't fall for the misconception that you must get a high-grade clarity diamond in order for it to be eye-clean. These eye-clean diamonds may have flaws on them, but they can't be seen with the naked eye. When labs certify a diamond and label it by its clarity, this is done under a 10x magnification. No one looking at your diamond is ever going to look at it under that magnification.
For this reason, we have placed clarity at the bottom of the 4 c's list. There are other important characteristics of a diamond that you must be prioritizing when purchasing a diamond other than clarity.
Our recommendation is to get a VS2 rated diamond. This rating is considered eye-clean with flaws that can only be seen under magnification.

Above are some examples of eye-clean VS2 diamonds.
It is possible to find eye-clean diamonds that are lower than VS2, but at that point it becomes a hit-or-miss. VS2 is your safest bet where you can easily get your money's worth.
But how much is the price difference between different clarity of diamonds?
Each tier change can result in a couple thousands of dollars difference.
Internally flawless diamonds are priced so high because of how rare they are. But just like with color, you will not be able to appreciate this because the difference isn't visible. You shouldn't pay $1,500 more just to have "flawless" written on a piece of paper.
And keep in mind – even diamonds of identical 4C's (including clarity) can differ a lot in pricing. This can be due to the type of flaws and whether you can see them or not. Some SI2 diamonds are completely eye-clean, while some have an undesirable black spot right in the center.
Diamond Shapes
If you already know the shape of the diamond you're going to get, then don't worry too much about this section. If you don't know, know that the shape of a diamond can affect the price and give you flexibility budget-wise.
Round diamonds are the most expensive and traditional. This is because they exhibit the most light and appear the shiniest and most sparkly. If you believe that whoever you're getting the ring for appreciates shaped diamonds, then consider getting one of those, because they are generally cheaper than round diamonds.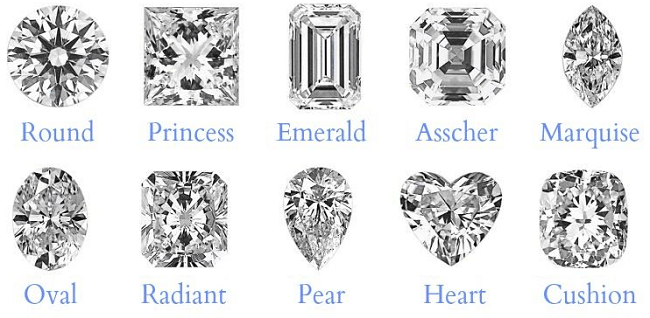 Princess cuts are the second most popular thanks to their similar shine and sparkle of a round diamond. They're edgy and contemporary, yet still feminine and delicate.
Marquise cuts cut diamond is a perfect shape for maximizing carat weight by emphasizing the size of the diamond. Its unique shape creates the effect of longer, more slender hands and fingers. The outline of a diamond is determined by its length to width ratio, which also provides an image of the shape and look of the diamond.
Cushion cuts, sometimes called a pillow-cut diamond, is a timeless cut that has earned its name for its pillow shape. Cushion cut diamonds tend to have impeccable brilliance and clarity in their appearance which can be attributed to their rounded corners and larger facets. These diamonds are available in square and rectangular shapes.
Emerald cut diamonds have a unique optical appearance because of the rectangular facets step-cut into the diamond's pavilion. This cut showcases the diamond's original clarity beautifully because of its large rectangular table which will also make inclusions and color more apparent.
Radiant cuts are perfect for those looking for a unique style, radiant cut diamonds feature uniquely trimmed corners which combines the lines of an emerald cut with the brilliance of a round diamond. The sparkle of this diamond cut looks beautiful when combined with a variety of other diamond cuts.
Pear cuts combine round and marquise cuts, the teardrop style of pear shaped diamonds is exceptional. The slender pear shape will give fingers and hands a slimmer appearance while creating a soft and delicate look. Pear shaped diamonds are cut to produce maximum brilliance, so it's important to look for excellent symmetry.
Oval cut diamonds have a classic appearance with a modern twist! It is a popular cut in all types of jewelry, especially in engagement rings, making it easy to match with other jewelry. It has an incredible brilliance, similar to the round brilliant cut, but also has the advantage of accentuating long, slender finders.
Asscher cut diamonds are often mistaken for an emerald cut because of its similar cut style; however an asscher is square rather than rectangular. Created in the early 1920s, the asscher cut has recently resurged in popularity, especially amongst celebrities.
Prices of a shaped diamond can be down 20% – 40% compared to a round diamond. You can then put that money towards a larger stone, a fancier setting, or higher color/clarity grade.
A word about fancy shapes: Fancy-shaped diamonds are not given a cut grade by GIA, so they are a bit more challenging to buy. If you're considering one of these alternate shapes, make sure you do the research and talk to a trustworthy jeweler who can tell you if the diamond is cut well or not.
Certification (The 5th C)
Although it's technically not part of the 4 c's, it's importance is significant enough to where it can be considered as one.
There are several diamond grading labs around the world: GIA, AGS, EGL, IGI to name a few. These labs all have their own grading criteria and standards.
Make sure you get your diamond certified by GIA or AGS. These 2 are considered the most reputable brands and have the most credibility. The reason for this is because, other brands may grade a diamond VS2 when in reality it would and should be graded as a SI2 diamond. Other labs may inflate grades by 2 or more!
Diamonds certified by GIA and AGS are pricier (as much as 10-30%), because it is more expensive to receive a certification from them. But this is yet another area that you absolutely should not compromise on.
Diamond Fluorescence
Last, but not least, we have the final characteristic to look out for – diamond fluorescence.
Fluorescence is the soft glow a diamond can give under ultra violet light, usually a blueish hue. This is caused by minerals inside the diamond. Don't fret, because it's totally natural, usually appearing in about a third of all diamonds.
Usually, fluorescence doesn't cause any negative effects on the appearance of a diamond. However, it's still generally seen as a "bad" characteristic. Because of this, prices for diamonds with fluorescence can have a 2-15% drop in price!
Other Factors that Affect Pricing
Besides diamond characteristics factors, there are a couple of other things that affect how retailers price their diamonds:
Jeweler markups: This has the biggest effect. Of course, prestigious brand names such as Tiffany and Harry Winston have high premiums. But popular mall jewelry stores have high markups as well. Stores with a physical location need to pay for a lot of overhead (the store itself, staff, etc., not to mention commission to salespeople), so these costs are passed onto customers. Online diamond retailers have less overhead, so they can sell their diamonds at a lower price.
Jeweler policies: Some jewelers will give you a lifetime warranty, free resizing, and 100% buy-back. These generous policies can be factored into the selling price of the diamond.
Where Is The Best Place To Buy An Engagement Ring?
For
Diamond Retailer
Best Place To Buy Online
James Allen
Biggest Selection
Blue Nile
Best Diamond Cuts
Whiteflash
Bottom Line
Remember the importance of each and every topic we've mentioned in this post:
Go just below the 1 carat mark to save up to 20% on the price.
Color and clarity do not affect the brilliance of the stone, so you don't need to splurge on flawless and colorless rocks.
A clarity of VS2 offers the most value for the money because most people won't be able to see the small inclusions.
A color of H is the best value for diamonds set in white gold or platinum bands.
Multiple smaller diamonds cost a lot less than one single larger diamond. The halo setting is great for making a smaller center diamond appear huge on a budget.
Only buy a diamond graded by GIA and AGS to ensure you receive the quality advertised.
Online diamond stores offer prices as much as 50% less than big name jewelry retailers.
Now that you know all the secrets to diamond shopping, head out there and confidently shop for your diamond!