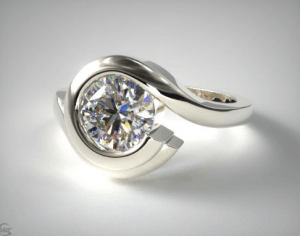 After you look through a few engagement rings, you'll probably start to realize that there are so many different types of rings that can be made. All of these combinations can be a little stressful, but with proper definition of each type of attribute, you can be on the way to a well informed and fair purchase. There are many ways to display a diamond within a setting. One of these ways is a tension ring. This tension setting has its own flair and is sure to turn heads. Keep reading and find out more about what tension settings are!


At James Allen, their diamond and gemstone fine jewelry collection offers hand-crafted pieces of unforgettable luxury that are perfect for any occasion.
• Their mission is to offer consumers online the highest quality diamonds & largest selection at the best price.
• 150,000+ certified conflict-free diamonds, all photographed in 360° HD
• 24/7 Diamond Experts, with option for Real-Time Diamond Inspections
• Lifetime Warranty, Free Shipping Worldwide
• Hassle-Free Returns with 100% Money Back Guarantee


What is a Tension Setting Ring?
Most traditional settings have prongs and baskets that hold the diamond in place to present it. Tension settings go against tradition and uses no prongs or baskets to hold the diamond. Instead, the diamond is held by the structure and tension of the setting and is held between the ring's band.
Why Would You Get a Tension Setting Engagement Ring?
When you buy an engagement ring, you want to flaunt that diamond and make it the centerpiece. The tension setting does exactly that. With no prongs or metals to hold the diamond in place, the diamond can completely shine without the setting getting the way. While the diamond floats in between the two open bands, it shines its brilliance through all angles. Here are some other reasons to get a Tension Setting Ring.
It Will Turn Heads- This setting is different from all of the others. It is just enough uniqueness to make people want to question the magic.
Choose your Metal- You are able to choose the exact metal and color that you want to complement yourself and the diamond. Choose from platinum or golds and you'll get a great looking ring.
Choose any Shaped Diamond- Some settings don't allow different types of shapes. If you pick a tension ring, the jeweler will be able to adjust the tension and allow any diamond to fit from ovals, round brilliants, and rectangles.
Diamond Brilliance- With tension settings, the diamond is completely exposed in every angle. If you want to show off your diamond, a tension ring may be the best bet for you.


At Blue Nile, their jewelry is designed and crafted with high-caliber, quality materials and inspected with exceptionally high standard.
• Highest Diamond Quality Standard & Authenticity Certified
• Get More For Less & Always Have The Best
• Best Price: Find a comparable GIA graded diamond for less and they'll match the price. Pay 20% up to 40% less than traditional jewelers


What is Wrong with a Tension Setting Engagement Ring?
These settings aren't perfect. Here are some possible problems:
Difficult to Resize- Tension setting rings are much harder to resize than traditional rings. Changing other parts of the setting may affect how much tension is holding and securing the diamond.
Available Jewelers- Not all retailers hold tension settings. They take a lot of skill and experience to be able to create a setting that will ensure the safety of the diamond, while also ensuring diamond brilliance. The good thing is that shopping from tension setting ring available retailers means that you are looking at a pretty competent store.
Security- Because it is only supported by the tension of the bands, it can be lost easily. Enough force and playing can release the diamond out of its setting.
Where Is The Best Place To Buy An Engagement Ring?
For
Diamond Retailer
Best Place To Buy Online
James Allen
Biggest Selection
Blue Nile
Best Diamond Cuts
Whiteflash
Where to Buy Tension Setting Rings

If you're interested in buying a beautiful tension setting ring, it is probably best to go to a reputable retailer with trained professionals to ensure that your diamond will be safe and shining under right tension settings. These are the places we recommend starting your search at for tension setting rings. They offer some of the highest quality customer service and products in the world!
James Allen– If you're looking for a great online shopping experience with great products, be sure to check out James Allen. To help with your complex diamond search, they offer great features to help out with vast information you will be needing to make an informed purchase. Their HD 360 Degree Viewing Technology helps ensure customers they are getting exactly what they see from any inclusions or flaws to the perfections of the diamond! This helps with tension rings because then you can see how your diamond will look on your tension setting. Not all diamonds will look great in a tension setting! Check out James Allen's Tension Rings and Other Settings!
Whiteflash– If you're looking for the best diamond cuts, you should check out Whiteflash. They offer the best cut diamonds on the market and are sure to provide only ethically sourced diamonds. When buying from Whiteflash, they ensure that you are getting the best of the best by qualifying all of their diamonds under the American Gemological Society and Gemological Institute of America. A brilliantly cut diamond is essential to a tension ring setting, as the diamond is exposed in every angle. Check out Whiteflash's engagement ring collection!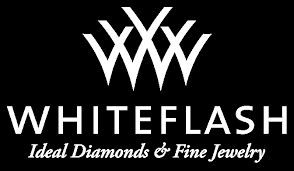 At Whiteflash, they're all about the Ideal Cut Diamond carrying the largest inventory & best selection of AGS certified ideal diamonds in the world!
• Exclusive provider of their own A CUT ABOVE® Super Ideal Diamonds
• Finest designer brands such as Tacori, Verragio, Simon G, Ritani, Danhov, Vatche, and Benchmark
• Entire staff GIA trained including several Graduate Gemologists & Diamond Graduates
• Complete Satisfaction Money Back Guarantee


Bottom Line
A traditional ring is beautiful in its own way, but if you want to really turn heads with a innovative and unique design, a tension ring is probably the fit for you. The distinct characteristics give the tension ring a clean and modern look. Tension rings are great because they can be custom made and make the diamond the focus of the jewelry. They will make a diamond sparkle brilliance in every angle possible! Be careful though! They can be insecure and are actually hard to find because of the amount of skill it takes to plant a diamond in a tension setting. Shop from reputable companies like James Allen and Whiteflash to ensure that you get a high quality ring. If you're interested in