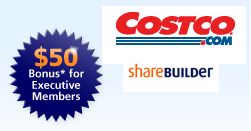 For those who are Costco Executive members, you can get this $50 ShareBuilder online brokerage account along with 30% off real-time trades for only $6.95. Also, you'll get 50% off automatic investments for only $2 instead of the normal $4. For those that are not Costco members, you can still get this $50 ShareBuilder New Account Bonus open to all new customers.
From ShareBuilder Costco Bonus T&C's:
$50 Account Bonus: Executive Members must open a new account to be eligible to receive the account bonus when the Costco Executive membership number has been entered in the ShareBuilder account set-up process and verified. The account bonus will post within approximately 5 business days after the first transaction has occurred in each newly opened Individual, Joint and Custodial Account with ING DIRECT Investing, Inc. The account bonus from ING DIRECT Investing is not available for withdrawal for 90 days after it is awarded to your account. ING DIRECT Investing and Costco reserve the right to terminate this offer at any time. Not valid with any other offer. Limit one promotional award per unique customer or custodial beneficiary. Other excludes Individual Retirement Accounts and Education Savings Accounts.
Again, it's only available for Executive Members of Costco to get this $50 Sharebuilder Bonus. Don't wait too long and sign up today to this limited time Costco a cash bonus! See complete listing of all Sharebuilder Bonuses too!