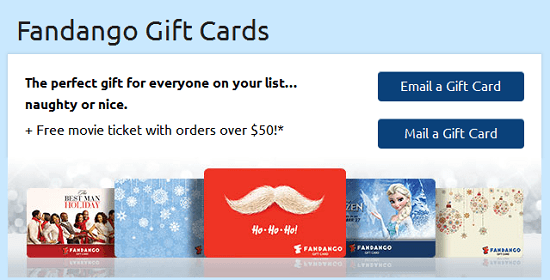 Movie lovers will appreciate this offer for one free movie ticket after purchasing a $50 gift card from Fandango! All you need to do is buy $50 or more in Fandango gift cards (can be multiple cards) to get a gift code sent to your e-mail for a free movie ticket ($15 value). This offer is available for purchases made by 12/25/13, and the free movie ticket code expires 1/31/14.
Additional Fandango Deals:
Terms and Conditions
Offer valid only for purchases of Fandango Movie Gift Cards made between 11/25/13-12/25/13. Spend $50 or more on Fandango gift cards in one transaction and you will receive an email from Fandango with a promotional code redeemable for one movie ticket on Fandango. Promotional Code is valid through 1/31/14 for one (1) Fandango movie ticket valued up to $15 and is good for one-time use only.
If you're interested in getting a free movie ticket from Fandango, hurry and order $50 or more in Fandango gift cards by 12/25/2013! This is a great opportunity for you to get a Christmas present for that movie lover in your life and earn a little bonus for yourself while you're at it. And remember, you can always find more ways to save money online at HMB!