Editor's Note: Open a Capital One 360 Money Market Account from below to earn 1.00% APY for balances $10K or more. Then refer your friends and family to earn up to $1,000 in referral bonuses!



*Expired*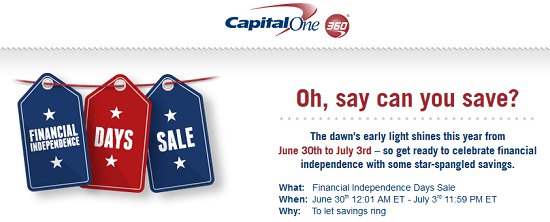 For four days only, Capital One 360 is having Financial Independence Days Sale starting now until Thursday, July 3rd with some of the largest new account bonuses and special promotions. This limited time promotion includes Capital One 360 Checking, 360 Savings, Capital One Home Loans, Capital One ShareBuilder, and Small Businesses. See the full bonus chart below and click on the review for more details.
Capital One 360 Financial Independence Days Sale 2014
Capital One 360 Checking Account $100 Bonus
360 Checking®: Earn $100 when you open a 360 Checking® account. Sign up for fee-free 360 Checking®, make 5 Debit Card purchases or 5 mobile deposits with CheckMateSM within 45 days and snag a cool $100 on day 50.
This has to be your and your joint account holder's (if you have one) first 360 Checking account.
Open 360 Checking from June 30th – July 3rd and make a total of 5 Debit Card purchases or 5 CheckMateSM deposits or any combination of the two within 45 days.
Your $100 bonus will be automatically deposited into your account on day 50.
Capital One 360 Savings Account $76 Bonus
This has to be the primary account holder's first 360 Savings account and it needs a $500 minimum deposit.
The bonus starts earning interest on day 1, but you can't take it out for at least 30 days.
Being a satisfied customer for over 10 years, I personally recommend to all my readers for Capital One 360 Checking or 360 Savings account with this very limited time promotion!