Develop a health body, mind and spirit at the YMCA! Known for their catchy song, the YMCA is a great place for athletics to academics. Additionally, they are proud to offer free membership to military personnel and their families who fall under Title 10 personnel. Which is family members of deployed national guard and reservist, active duty independent duty personnel and their families and more. Just head to your participating YMCA and present your military ID and required documentation to receive your free membership!
YMCA Military Discount Promotion:
Discount: Free Membership to military families
Eligibility: Title 10 personnel are eligible for a Y membership, including:

Family members of deployed National Guard and Reservists
Active Duty Independent Duty personnel and their families
Relocated spouse/dependent children of deployed Active Duty personnel
Note: The Relocated Spouse category supports families/spouse who relocate away from an installation/duty station while the active duty service member is deployed. All of the following criteria must be met:

The service member is on active duty.
The service member is deployed for a minimum of six months (on deployment orders—NOT unaccompanied orders, NOT geographic bachelors).
The spouse has relocated away from the military installation where the service member is assigned (most often, back home near family).
Wounded service members assigned to a Community Based Warrior in Transition Unit (CBWTU)

Availability: (Locations)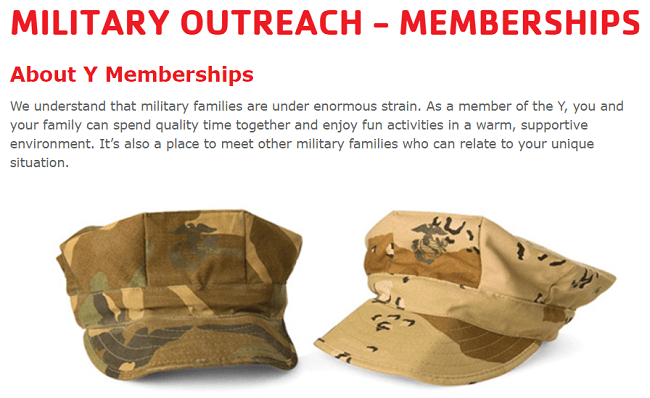 Bottom Line:
The YMCA understands that military families are under enormous strain. And if offering you and your family to spend quality time together and enjoy fun activities in a warm, supportive environment. Just head to your local YMCA and get free membership when your present your military ID and required documentation! If you're interested in more ways to Save Money, check out our extensive list of Best Military Discounts, here on HMB!