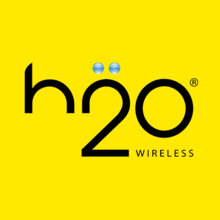 Is your current mobile phone company charging you an arm and a leg for service? What if we told you that there was a way to save a ton of money of your first month with unlimited minutes?
Right now, H2O Wireless is offering 30-Days of the Unlimited Talk & Text + 6GB Data Plan valid through March 31, 2019.  You can always come back to HMB for other great ways to save money!
H2O Wireless Promotion 
Promotion: 30-Days of the Unlimited Talk & Text + 6GB Data Plan
Expiration: Limited time.
Terms & Conditions: h2o Wireless operates on the nationwide AT&T network. For use with compatible AT&T and GSM unlocked smartphones. Prepaid, no-contract service. No credit check required. Once your free 30-days is up, you will not be charged anything unless you prepay at the regular $20/mo. / $30/mo. rate to continue service. You will not be automatically billed at the end of your 30-days unless you manually enable 'Auto Recharge' in your account settings (15% discount available for opting in to Auto Recharge, learn more) Note: If you continue service after your initial free 30-day offer, note that after your first three months, your monthly data allowance will revert from the promotional 1GB per month to the standard 500MB per month on the $20/mo. plan; and from the promotional 6GB per month to the standard 3GB per month on the $30/mo. plan. You may cancel or port-out of h2o at anytime (no contract, early termination fees or penalties). Note: Due to AT&T restrictions on some prepaid services, visual voicemail and MMS functionality to/from Android devices may not work when using an Apple iPhone on h2o.

How To Get Free Month Of Service
Head over to the H2O Wireless Promotion page.
Select the plan that's right for you.
Get 30-Days of the Unlimited Talk & Text + 6GB Data Plan!
Bottom Line
This is your chance to stop paying a high price for your phone service. Right now, H2O Wireless is offering you a chance to get 30-Days of the Unlimited Talk & Text + 6GB Data Plan! Simply head to their easy to use website to get the process started.
Paying your own mobile phone bill can really get expensive especially when you opt for the unlimited talk and text plans. However, with such an amazing deal like this, you'll get to try out the service before committing to anything. If you want to save even more money, you can purchase discounted gift cards and perhaps save even more money with the best cash back shopping portals!