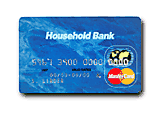 The Household Bank® Rewards MasterCard is now offering 2% cash back on all purchases plus a 0% Introductory APR for 9 months and go to a variable 19.90% APR thereafter. You will earn 2 points for every $1 in net purchases, which can be redeemed for merchandise, gift certificates, or cash back. Cash back redemption starts at $25 for 2500 points. This card would be a great addition with the 5% cash back categories credit cards.
Rates and Rewards Features:
 0% Introductory APR on credit card Purchases. After that, receive a competitive variable APR of 19.90%.
Earn points redeemable for 2% cash back or other rewards
24/7 online account management
Customer service representatives to assist you with questions
Automatic credit reporting to 3 major credit bureaus
100% protection for unauthorized use
The Household Bank Rewards MasterCard is one of a few cards at 2 percent in cash back.  With the Charles Schwab Visa or the Fidelity Retirement Rewards card, you must sign up for their brokerage account in order to get 2% cash back. However, the Household Bank card will ask you no such thing. The annual fee is between $0 and $39, depending on your credit. You can always call in to see if they give you no annual fee after you received your card.