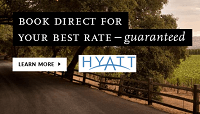 Hyatt Gold Passport offers Southwest Rapid Rewards Promotion up to 1,800 Bonus Points for each Eligible Stay booked directly through Hyatt. Members can earn Rapid Rewards Points through any Hyatt site and or transfer Hyatt Gold Passport Points to Rapid Rewards Points. You may also request points retroactively for stays in the last previous six months. Be sure to provide your Rapid Rewards number and Hyatt Gold Passport number upon check in at the hotel. Rapid Rewards Members who are also Hyatt Gold Passport members can redeem 5,000 Hyatt Gold Passport points for 2,400 Rapid Rewards Points or 50,000 Hyatt Gold Passport points for 24,000 Rapid Rewards Points and receive a bonus of 6,000 additional Rapid Rewards Points for a total of 30,000 Rapid Rewards Points.
Hyatt Gold Passport Southwest Promotion:
Requirements: Must be a Southwest Rapid Rewards Member to qualify. If you are not already a Rapid Rewards Member, enroll now. To receive Rapid Rewards Points for your eligible stay, you must select Rapid Rewards Points as your currency of choice.
Valid: 5/31/2016
Offer: For every stay you will earn 600 points up to a maximum of 1800 total when you book directly through Hyatt and provide your Rapid Rewards member number.
Terms: A stay is defined as one or more consecutive nights at a single property. An eligible rate is any rate other than discounted rates, including but not limited to, any free night stays, internet and traditional wholesale rates (priceline.com and etc.), airline crew and employee rates, travel agency employee rates, discount certificate stays, vacation club stays, Hyatt employee or employee family discount rates, and airline interrupted-trip vouchers and contract room rates. Please allow four to six weeks for Rapid Rewards Points to transfer to your Rapid Rewards account from Hyatt.
Get 1,800 Rapid Rewards Points:
You must visit Hyatt.com to book your reservations. Be sure to enter your Rapid Rewards account number at checkout.
Earn 600 Rapid Rewards Points, courtesy of Hyatt, for every qualifying stay booked directly through Hyatt.
Participating brands include Park Hyatt, Andaz, Grand Hyatt, Hyatt Regency, Hyatt Place, Hyatt House, Hyatt Ziva & Hyatt Zilara.
You will receive up to 1,800 points maximum.
Use Chase Sapphire Preferred to earn rewards on all your travel expenses, including dining, flights and lodging.
Bottom Line:
Book your hotel directly on Hyatt.com or other Hyatt Sites to earn up to 1,800 Rapid Reward Points maximum for Eligible Stays. To request Rapid Rewards Points for past stays completed within the past six months, please fax, mail or e-mail your request along with your full name, hotel, dates of your stay, and your Rapid Rewards account number to:
Hyatt Gold Passport, Customer Service Center, Attn: Airline Processing
P.O. Box 27089
Omaha, NE 68127-0039
Fax: (402) 593-9449
E-mail: gpcs@hyatt.com Use RR points to book free rewards flights and save money! Look for more rewards at our Points, Miles & Bonuses page!