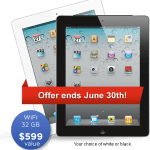 For two days only, Prosper is offering a new iPad 2 promotion to new lenders to sign up by June 30, 2011. You have until July 30th to fund with $20,000 to get your iPad 2($599 value). Here's the bonuses guideline:
$5,000 minimum (to $9,999) for an iPod Nano, 8 GB ($149 value)
$10,000 minimum (to $19,999) for a set of Bose QuietComfort 15 Noise-Cancelling Headphones ($299 value)
$20,000+ for an iPad 2 32 GB WiFi model ($599 value)
I have invested with Prosper before and they are legit. However, with any investment, make sure you spread your lending out to as many borrowers as possible. Prosper offers lenders a smart, easy way to invest in high-yield personal loans, tools to manage your investments, and no maintenance fees or hidden fees. Sign up today before the promotion runs out!