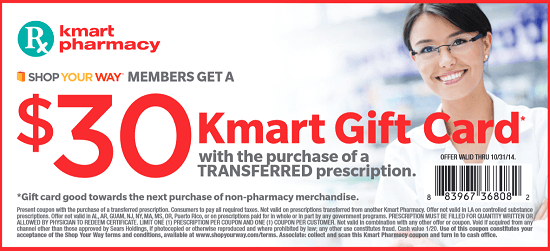 For those who are Kmart Shop Your Way Rewards Member(Join for FREE), they are offering $30 in Kmart Gift Card with the purchase of a transferred prescription. You can earn a $5 Kmart Gift Card each for up to 4 prescription refill purchases good through 12/31/2014. Make sure to print and present the coupon to get up to $50 in Kmart gift cards when you transfer up to 4 prescriptions to Kmart Pharmacy. The Kmart Gift Cards are good toward your next purchase of non-pharmacy merchandise.
Hustler's Tip: Many of Kmart competitors such as Walgreens, WalMart, CVS, etc will match the $25 promotion. Simply take the Kmart coupon printout to their competitor's pharmacy for the bonus match.
Fine Print: Gift cards good towards the next purchase of non-pharmacy merchandise. Not valid on prescriptions transferred from another Kmart Pharmacy. Offer not valid in LA on controlled substance prescriptions. Offer not valid in AL, AR, GUAM, NJ (customers less than 60 years of age), NY, MA, MS, OR, Puerto Rico, or US Virgin Islands or on prescriptions paid for in whole or in part by any government programs.
Take advantage of this Kmart Pharmacy Coupon promotion to earn up to $50 to reduce the exuberant cost of prescription drugs.