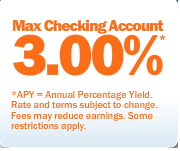 Lake Michigan Credit Union is offering 3% APY for their Max Checking account. Lake Michigan Credit Union is the largest credit union in West Michigan with 35 locations and 92 ATMs in their area. This is a great offer because the accounts contains no fees and no minimum balance requirements. It pays 3% APY on balances up to $15,000 and refunds up to $15 per month in surcharge ATM withdrawal fees at non-LMCU ATMs when you withdraw from your Max Checking account. There are only a couple of monthly requirements needed to maintain your 3% APY.
Open to Everyone – Yes, nationwide!
You can apply for this Max Checking account online with very easy membership eligibility. Simply make a $5 donation to the Amyotrophic Lateral Sclerosis (ALS) Association, West Michigan Chapter and you are qualify to join Lake Michigan C.U. When you click on the "Sign up for Max" button in the credit union's Max Checking page, they will provide a link for new members to sign up.  You will be forwarded to an online application for new accounts. At the new-account application, they will ask you to select how you qualify for membership. If you don't live, work, worship or attend school in one of these Michigan counties, you can qualify by donating to the ALS Association of Michigan.
How to Maintain 3.00% APY:
Sign up for the Max Checking account with Lake Michigan Credit Union.
Set up direct deposit into your LMCU account
Make 10 debit card purchases per month
Log in to home banking at least 4 times per month
Be eligible for and sign up to receive eStatements/eNotices
3.00% APY is awarded on balanced of up to $15,000
Again, Lake Michigan Credit Union is offering 3.00% APY on a maximum of $15,000 through their Max Checking Account. You only need to maintain a few simple monthly requirements to earn this high APY rate, so the rewards are high for just a few minor qualifications. Plus, this is a totally free account with no monthly fees and no ATM fees. Sign up for the Max Checking Account from Lake Michigan Credit Union to take advantage of all these great offers.

Keep up with H.M.B. and its full list of the best bank rates!