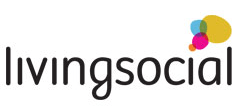 If you're big into bargains and deals, Living Social($10 bonus referral link) is the perfect site for you due to its daily coupons and offers. LivingSocial offers discounted coupons for local stores, restaurants, and attractions. The site also sends a daily email that will immediately bring to your attention a hot deal for the day. It's simple to claim these offers too. Once you find a deal that you like, you just need to click on that deal and await an e-mail for a printable voucher.
*HINT* – Earn an easy $10 bonus by signing up using this referral link. When you sign up for LivingSocial using the referral link, you'll get 10 Deal Bucks to spend on a purchase of $20 or more.
One of the most unique features on this site is the ability to share with your contacts. If three people use your link to buy the same deal, your deal ends up being free. You can definitely use this to your advantage for deals that involve group settings like yoga classes or a visit to the aquarium. In addition to this, LivingSocial provides location-specific deals and mobile access. So not only will you save time by being presented with local deals only, you will have immediate access no matter where you are through LivingSocial's iPhone and Android apps.
When making purchases at these daily deal sites, you always want to check on the terms and conditions of each deal because they can be limited to certain store locations or specific packages that a business offers. Just be aware of what you're spending your money on.
So if you love to save money, keep up with LivingSocial's daily deals to purchase discounted vouchers at stores found near you. This site makes it especially easy to find great deals because it caters to your specific location, and it allows you to receive these deals through email or mobile devices. Overall, LivingSocial is great for those who love to find great bargains. Continue to find the best deals by checking up on the full list of the best daily deal sites!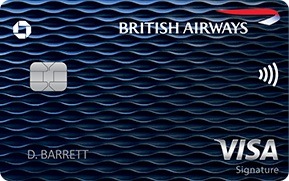 The British Airways Visa Signature® Card offers 75,000 Avios after you spend $5,000 on purchases within the first three months of account opening.

You'll earn:
• 3 Avios per $1 spent on purchases with British Airways, Aer Lingus, Iberia, and LEVEL.
• 2 Avios per $1 spent on hotel accommodations when purchased directly with the hotel.
• 1 Avios per $1 spent on all other purchases.

This card comes with a $95 annual fee and no foreign transaction fees. You'll be able to get 10% off British Airways flights starting in the US when you book through the website provided in your welcome materials. In addition, every calendar year you make $30,000 in purchases on your British Airways Visa card, you'll earn a Travel Together Ticket good for two years.



Learn More About This Card Here