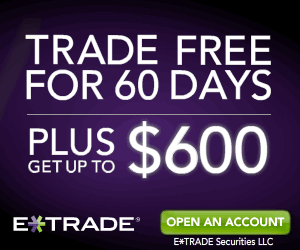 E*TRADE is a top-notch, innovative online discount brokerage that has pioneered the industry with their superior tools for investing and related banking solutions, outstanding customer service, and ease of use for investors. They are now offering free trades for 60 days and up to $600 in cash credit for signing up.
Around since 1992, it is arguably one of the top players by offering a full suite of easy-to-use online brokering services delivered at a competitive price of $9.99 per trade.
Promising to empower individuals to take control of their financial futures, E*TRADE provides the effective products, intuitive tools, and professional services needed to meet your investing goals: a strong network of customer service representatives, investment professionals, and investment advisors who are available over the phone and-in person at their 28 E*TRADE branches.
Key Features:
Options Trading. Turn volatility into opportunity and protect your positions with professional-grade options tools and analytics.
Exclusive Power E*TRADE Pro 5.0 trading platform gives you the very latest in trading innovation and usability
Fully integrated idea-generating tools and live streaming CNBC. Find new opportunities with trading ideas from Minyanville and integrated technical screening & backtesting.
Free trading education from respected industry professionals.
Futures Trading. Trade futures with professional-grade TT_TRADER platform and support from dedicated Futures Trading Specialists.
E*TRADE Mobile Pro. Track the markets and place trades anytime, anywhere – available on iPhone, iPad, Blackberry, and Android
E*TRADE has all the powerful and easy-to-use tools for just about everything you'd need as an investor: fully customizable market and trading platforms, along with other useful tools such as asset allocation, account performance, income estimator, risk estimator, and more. They are also renown for their speed and performance needed to trade options in any market conditions: multi-legged strategies that allow trading all spread strategies including butterflies and condors and options chains and analytics by featuring streaming theoretical values. It should also be mentioned that E*TRADE has one security feature that sets itself far and above its competitors- RSA SecurID product- a keychain-sized device that generates a personal 6-digit access code every 60 seconds that you use to log-in along with your username and password. This makes unauthorized log-ins nearly impossible.
With over 2.3 million people from over 40 countries worldwide already using
E*TRADE
, you can be confident that you're investing in a market leader whose service you can trust. E*TRADE offers a wide range of investment products, convenient mobile trading app, and solid customer service. Their site is easy to use and navigate, and trades execute fast. Although they offer services for the causal investor, their services seem to cater more towards the active trader, so if you keep a moderate-sized balance and perform more than 30 trades per quarter, E*TRADE may be the right option for you.
Compare the best online stock brokers now!