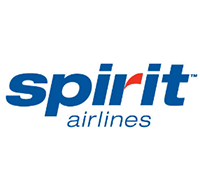 If you are looking for the best airline to save money, Spirit Airlines is the way to go. As you may know, today is National Taco Day as well! Check out this limited time Spirit Airlines promotion and score round-trip flights from $125. 
You must book the flight by 11:59PM on October 5th, 2018, so don't wait! You can travel on select dates from October through February 2019. No promo code is needed when you book your flight to get that discounted price. Travel the world and get a taste of some delicious tacos today. Book now before it's too late!
Spirit Airlines National Taco Day Promotion:
Promotion: Round-Trips from $125
Promo Code: None
Expiration: Book by 11:59PM on October 5, 2018; Travel by select dates from October through February 2019.
Availability: Nationwide
Terms & Conditions: All fares must be booked on spirit.com by 11:59PM on October 5, 2018 for travel on the dates as specified by individual market and by market direction on nonstop flights only. Fares valid for travel Tue / Wed: 10/16/18 – 11/14/18, 11/28/18 – 12/12/18, 1/8/19 – 2/12/19. Roundtrip purchase not required. Fares may be combined with other valid and applicable Spirit Airlines fares on other dates of travel. Lower fares generally available at the airport and all fares are subject to availability. You must be a member of the $9 Fare Club to receive the member fares. To become a member of Spirit Airlines $9 Fare Club, click here for membership details and Terms and Conditions. Not all markets are operated on a daily basis during the travel period, or necessarily for the entire travel period — please see www.spirit.com for details.

How to Get Round-Trip Flights from $125:
Go to the Spirit Airlines promotional page.
Book a flight to a select destination before 11:59PM on October 5, 2018.
Enjoy your round-trip flight from $125!
Bottom Line:
If you plan on traveling on a budget, then take a look at this Spirit Airlines promotion where you can get round-trip flight from $125. All you have to do is go on the website and purchase a qualifying ticket before 11:59PM by October 5, 2018 and travel on select dates as indicated on the promotion. Get a taste of this sweet deal and maybe some tacos while you're at it. And don't forget there are plenty of ways to earn Points, Miles, and Bonuses!