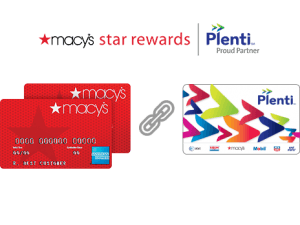 For those who currently have a Macy's American Express, there is a promotion that offers you 2,000 Plenti Points when you spend $20. The promotion ends December 31, 2016 so the 2,000 points will come easy especially with holiday shopping around the corner. Plenti Points is a topnotch rewards program that allows you to earn points at one place and use them in another. Isn't that great? For example you can use points earned at Exxon on Macy's purchases. Plenti Points are quite easy to rack up as they have tons of participating locations within their rewards program.
Macy's Amex 2,000 Plenti Points Summary: 
Contact:  1.800.369.7132 and opt in to offer using offer code 102.
Plenti Points Membership: You need to be a Plenti rewards member and link your Plenti account to your Macy's credit card.
Conversion Points: 1,000 Plenti Points equals $10
Expiration Date: 12/31/2016
Maximum Offer: 2,000 Plenti Points ($20 savings) each month; potential earnings of 6,000 Plenti Points by December 2016
Spending Limit: Make 3 purchases in each month with your linked Macy's American Express Card, totaling $20 or more:

1 purchase at a gas station
1 purchase at a supermarket
1 purchase anywhere Amex cards are welcome outside of Macy's

Terms and Conditions: To participate in the offer, must contact 1-800-369-7132 and use offer cod 102 to opt into promotion. Offer valid through 12/31/2016. Must make 3 purchases in October with the linked Macy's Amex with Plenti Points totaling $20 + at a gas station, supermarket, and anywhere Amex is welcomed outside of Macy's.
Earn Macy's Amex 2,000 Plenti Points: 
Contact: 1-800-369-7132 and use offer code 102
Make sure your Plenti Points is linked with your Macy's American Express Card
Make qualifying purchases in October 2016:

One purchase at gas station
One purchase at supermarket
One purchase elsewhere from Macy's where American Express is accepted

Get 2,000 Plenti points for the month of October.
Guess what? You can perform the above steps again for November and December for 2,000 more points each month
This offer will then earn you a total of 6,000 Plenti Points. That is at least $60 in savings at Macy's.
Receive savings at checkout.
Bottom Line: 
Macy's American Express is offering a great deal for people who currently use Plenti Points. The potential earnings of plenti points is 6,000 by December 2016. That's almost $60 in savings! If you are not a member Plenti Points, they are free and easy to sign up! Hurry up and link your Macy's Amex card and contact the number above to opt into this offer. This is a great way to earn savings on purchases you make everyday such as gas stations, supermarket, and anywhere else! Take advantage of this promotion now and check out more of these offers from our full list of Amex Offer Promotions.