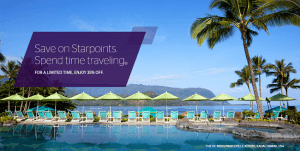 Looking to save on booking hotels? Starwood Preferred Guest is giving you the chance to save 35% on all purchases of 5,000 or more Starpoints through December 29, 2017. The standard cost for purchasing Starpoints is 3.5 cents per point, and this promotion drops the price down to 2.28 cents apiece as long as you purchase 5,000 points. Just keep in mind that you have to buy these points in increments of 500. If you plan on buying points and using them immediately, you may want to consider this offer. Or, you could transfer Starpoints to airlines at a rate of 1:1 with a 5,000 bonus for each 20,000 Starpoints you transfer. Check out this offer today, and save big on Starpoints!
SPG Points Purchase Discount Promotion:
Promotion: Purchase 5,000+ SPG Starpoints, get 35% off
Expiration: December 29, 2017
Terms: You must purchase at least 500 points. Points may be purchased in increments of 500 miles up to 30,000 points. Members can only purchase 30,000 points per account per calendar year. Purchased points do not count toward Preferred Guest, Gold Preferred Guest or Platinum Preferred Guest Status. Starpoint purchases can be made by members whose accounts have been active for a minimum of 14 days. Accounts that are less than the required 14 days in age will have the purchase attempt cancelled.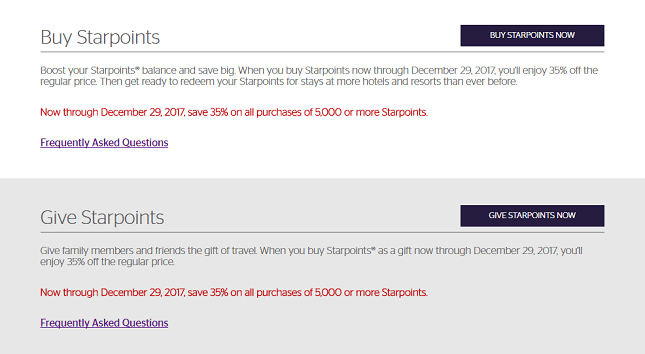 How to Get 35% Off SPG Starpoints:
Head to the promotional page to purchase SPG Starpoints.
Purchase a minimum of 5,000 Starpoints to save 35%. You can purchase a maximum of 30,000 points per year.
Use your Starwood Preferred Guest Credit Card to earn additional points when making your purchase.
Enjoy your discounted Starpoints!
Bottom Line:
For anyone who plans to stay at a Starwood Hotel in the near future, or would like to transfer your Starpoints to other airlines, consider this Starwood Preferred Guest points discount promotion and save up to 35%. As long as you buy at least 5,000 Starpoints for yourself or as a gift between now through December 29, 2017, you will receive the discount. See more ways to earn points, bonuses, and miles!