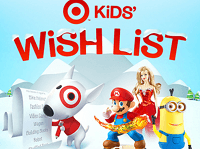 Target is offering a 10% Off Coupon through the Kids' Wish List App. This Wish List app is similar to a registry. You simply add the items you want and organize by person. It makes holiday shopping easy for you and for family and friends who want to shop for your kids. Plus the Wish List app will generate a 10% coupon for one time use when you add at least two names to your list. Even if one of your "kids" is the family pet. What's nice about this coupon is that you can stack it with most other Target promotions like the Cartwheel App, and in-store coupons. Hurry and add the Target Wish List App to you smart phone and get 10% off your entire toy purchase.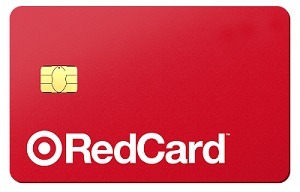 The Target REDcard offers cardholders 5% cash back on ALL purchases made at Target!

With this card in your pocket you'll get to enjoy various perks such as free shipping on most items and an extra 30 days for returns! If you're an avid Target shopper make sure you take advantage of your spending to earn you cash back!

This card comes with no annual fee.


Target 10% Off Kids' Wish List App:
Promotion: Download and install the Target Kids' Wish List App for iOS or Android for Free to receive a unique one time use 10% discount code through the app.
Valid: There is no telling when they will pull the plug on this offer so download now and you will have it saved for later.
Terms: Your coupon may be redeemed in-store at Target (Store Locator) or online at Target.com. Eligible categories include: Toys, Sporting Goods and Outdoors, Video Games, Electronics, Kids' Apparel, Accessories and Shoes, Kids' Home, Kids' Music, Movies and Books. So yes, you can apply it to iPads!!
How to Get the Wish List App:
Requirements: You will need a smartphone and wi-fi to download the free app.
Create: Add the names of your "children", I suggest you add at least two to help encourage the app to generate the unique 10% Off coupon bar code.
Use: You can shop online or in-store with your coupon to make toy and electronics purchases.
Maximize: Stack offers, discounts and coupons to get the most from this offer. Here's how I got the Apple iPad mini 2 16GB WiFi for $170.XX. Due to taxes and availability YMMV!
Buy: Go to Target (currently priced at $269+) and bring the Walmart Ad for the Apple iPad mini 2 16GB WiFi to get a $199 Price Match. Use Wish List coupon to get 10% off. If you have a Target RedCard you can get an additional 5% off. Your out of pocket can be as low as $170.xx. YMMV.
Bottom Line:
Don't blow all your hard earned money by impulse shopping. Download the Target 10% Off Coupon Offer via their Wish List app. Then stack their offers for a deep discount. There are lots of ways to cut cost if you know how to shop Target. Learn more ways to Save at Target!