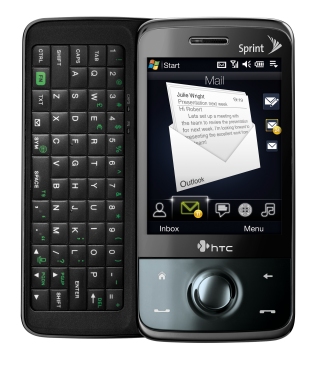 Many of my readers are Sero users. Man, I got a great deal for you. I just got the Touch Diamond and it is, my friend, the baddest phone I have ever had. Those who must have a keyboard, then go with the Touch Pro(left picture). Either way, I highly recommend it.
Now for the deal. If you can't upgrade it for the full $150 discount, then use the Ebay/Live method. It was around $220 for me after everything with the Touch Diamond.
However, check to see if you qualify for an upgrade:
https://manage.sprintpcs.com/specialoffers/RebateWelcome.do?id12=UpgradeLanding_CheckUpgradeEligiblity
If you are due for an upgrade, do not go with Sprint. Stop by your local Best Buy tomorrow, and upgrade through them. Check here to see if they have it in stock.
Some Best Buys are letting customers have it before the actual release date. Many have gotten it already since yesterday. Not sure why, but there is also a 20% discount with this coupon.
Here's the scenario:
Get the Touch diamond for $230- $46 (20%) = $184 or the Touch pro $239 /w the 20% off. Once you get the upgrade, go home and call Retention or email ecare about how you just renewed your plan and forgot to see if you also qualify for the $70 renewal credit. Keep trying until you get it.  While you are at it, ask them to take off the $18 activation fee too. This would make the diamond $114 and the pro $169.
**Another $100 rebate, however highly YMMV.
Advanta Kiva BusinessCard:
Use your Kiva BusinessCard to change the life of a business owner in a developing country. Apply now and you'll receive these unbelievable benefits
Advanta will match your grant to Kiva…dollar for dollar†
Unbeatable APR – 0% on balance transfers for 15 months, and 7.99% Fixed APR thereafter
Get 5% statement credit on your first $1,200 each year in grants to Kiva, charitable donations and other purchases.*
No Annual Fee
$0 Fraud Liability
†Up to $200 per account per month in total. See Matching Program Terms for details
*see Reward Program Rules for additional important information, benefits and limitations limitations