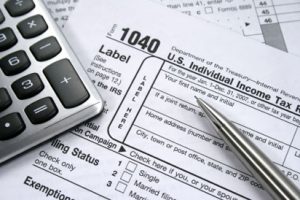 You may not know this, but you are able to pay your taxes by using a credit card! You may ask yourself, "Why would I want to pay my taxes with a credit card?" First of all, you might be able to meet some spending requirements required by the signup promotions you have with your new credit cards. This is a great way to earn a little extra cash. However, there are some disadvantages associated with paying your taxes with a credit card. This article will show you both of the advantages and disadvantages when paying your taxes with a credit card. You can visit the Official IRS Website for more information.
Disclaimer: We are not tax specialists; therefore, you should consult a tax professional for complete information.
How Does it Work? 
As of January 1st, 1999, we are able to pay our taxes through the Tax Payer Relief Act. However, the IRS is not authorized to process the payments directly. Instead, they have to go through a third-party company in order to process the payments. Going through a third-party company almost always results in additional fees for you, which it does have. However, some of these fees are low enough to earn you a net profit. These fees range from 1.87% – 2.25%. Below, you will find a table with the different companies that process credit card payments for the IRS and the fees associated with each.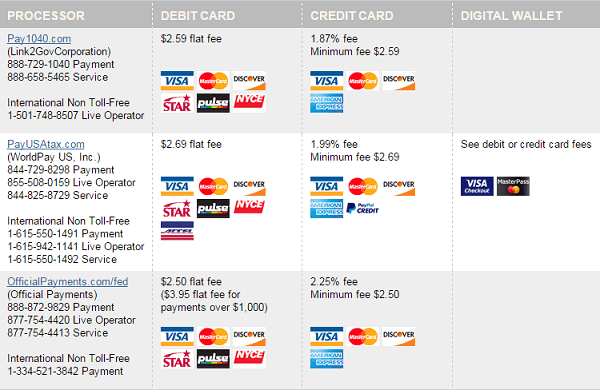 You can see that there is only a flat fee when you pay with a debit card. You might want to consider using a debit card that offers cash back rewards like the PayPal Business Debit MasterCard®.This card allows you earn 1% cash back on eligible purchases, so you could possibly use this debit card for paying taxes.
Paying Your Taxes with a Credit Card
In the table above, you can see that the lowest fee for credit card processing is 1.87% by Pay1040.com. Usually, this would mean you want a credit card that offers above 1.87% cash back in order to remain even. Not only do you want to remain even, but by paying your taxes through a credit card, you'll be able to earn the sign-up promotional offers.
Below, you will find a couple of credit cards with great promotions that are satisfied after a spending requirement is reached. You can also click on Credit Card Bonuses to find our full list of offers.


With the Chase SapphireSM Checking:
• Enjoy a $1,000 welcome bonus when you join SapphireSM Banking. Within 45 days, transfer a total of $75,000 or more in qualifying new money or securities to a combination of eligible personal checking, savings and/or investment accounts, (excludes any J.P. Morgan retirement accounts and CDs) and maintain that balance for 90 days.
• Enjoy a new kind of banking experience
• No ATM fees worldwide - down the street or around the globe
• Perks that add up - relationship rates, special access and help when you need it
• Open online in minutes
• Email my upgrade code
• Available in: AZ, CA, CO, CT, DC, DE, FL, GA, IA, ID, IL, IN, KY, LA, MA, MD, MI, MS, NH, NJ, NM, NV, NY, OH, OK, OR, PA, RI, TN, TX, UT, VA, WA, WI, WV.


Claim the Fees as a Deductible
You might be able to avoid the processing fees when you use your credit card to pay for your taxes. The requirement is that the tax that you are paying has to be a business tax. If it is, then you are able to treat the fee as a business expense. By doing this, you'll be able to save more than expected.
Be Careful!
This article mainly focused on being able to pay your taxes in full. If you don't, you will incur high interest rate charges  on your payment if you don't pay in full. Also, you want to be sure that you have enough available credit on your credit cards to make the payments that you need. If you don't, you will also be charged extra money!
Bottom Line
Paying your taxes with a credit card allows for some potential benefits. If you are looking to meet the minimum spending requirements benefit from promotional offers, then this strategy might just be for you! Typically, the cash back rate from credit cards is about 2%, and the lowest processing fee for using a credit card is 1.87%. In the end, you aren't earning enough to make it extremely profitable, however, the promotional credit card offers make it worth it. If you liked this article, go ahead and check out our exclusive list of Best Credit Card Promotions.