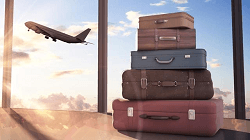 If you're a frequent traveler and you are not using travel program to earn miles or points, you're missing out. Many travelers use their  airline miles to fly in premium cabins or go on vacation for free. If you don't know where or how to start, feel free to read more below to find out you can start earning miles for your own free travel!
What Are Airline Miles?
Airlines have loyalty programs that rewards their customers for flying with them frequently: the more you fly with them, the more miles you earn. You can redeem these miles later on for your next travel like for a free flight or an upgrade.
The miles do not represent the amount of physical miles you are able to redeem for, but the amount of miles earned is based on how many miles you've flown on the airplane or how much you've spent. You don't have to fly to be able to earn the airline points you want, so even if you're not traveling often you can still earn points for a future vacation.
How Do Airlines Work?
An award seat is when you earned enough miles with an airline that you can redeem them in for a free flight. Award seats are limited and their availability changes over time since there are only a certain number of seats allocated for award fares for every flight.
Whether flights fill up or not, the availability and cost of award seats can fluctuate. So when you are booking and award seat, it is always best if you have an flexible travel schedule and that you check award availability often.
When it comes to miles, each airline works differently, so it's best to know how they work. Read more below to find out:
Zone Based
A set number of miles required to go from one region to another, for example, from North America to Europe or domestically within a country. It doesn't matter where your start and end points are since all award fares in a zone cost the same amount of miles. The most expensive fare in the zone is the best value for your miles. For example, Hawaii is often grouped into a zone with the Caribbean. People who live in the places with high cost fares can use this to their advantage and book a flight for the same number of miles as a flight to the Caribbean.
United and American have zone-based award charts. Most airlines operate on this model.
Distance Based
Where the amount of miles needed for an award seat depends on the actual distance traveled between destinations. For example, New York to Europe would require fewer miles than Los Angeles to Europe would. This works well for short haul flights, this is considered a good value depending on where you live , for example someone going from New York to London will be better off with a distance based program than zone based.
British Avios, Iberia Avios, and Cathay Pacific Asia Miles use distance based charts.
Cost Based
Where the amount of miles needed for an award seat is directly related to the cost of the flight. This rewards travelers based on the amount of money they spend, instead of the miles they fly.
Delta, JetBlue and Southwest have cost-based programs.
How To Earn Miles
There are other ways to earn a ton of airlines points without flying, including shopping in online portals, taking advantage of dining rewards programs, and more. But there are two main ways to get airline miles:
Directly joining the airline's loyalty program and flying with them, so every time you book a flight with the airline, you earn miles. Some airlines give you one mile credit per actual mile flown, while others give you up to 6X the miles per dollar spent. If you fly enough with an airline, you can eventually have enough points for a free flight. This method works best for those who mostly fly with one particular airline because you will be limite to redeeming your miles for flights only with that airline.
Earn miles with travel rewards credit cards, this is the fastest way to earn miles. You don't need to fly to earn miles since there are many travel rewards card that allow you to earn general travel points. Your daily purchases are helping you earn free flights, from the everyday spending you do. After you collect enough miles, you can redeem the for flights. With this method, it can give you more flexibility because you're not just limited to one airline.

Transferable credit card miles to airlines: Some credit cards allow you to transfer your points to the credit card's airline and hotel partners. This gives you flexibility to redeem with different airlines as well as letting you use your points for the most value.
General travel reward credit cards: These cards give you travel points. You can earn points on purchases and apply them toward statement credit for a travel related expenses.
Airline co-brand credit card: You still earn miles on all purchases, but you can only redeem them on that particular airline and it's partners. You get airline-specific perks like free checked bags and priority boarding.
Redeeming Your Miles
Once you've earned a decent amount of miles, either directly through the airline's loyalty program or through a credit card, you'll want to to cash in those miles. Head to your airline's site and enter in your membership number. Search for the flight you want and you will see a list of options, how many miles, they'll cost, and whether they're available or not.
Here are a few things to keep in mind:
Award seats have limited availability and sell out fast, so you have to be flexible since your ideal travel date may not work.
If you start planning early, you'll likely find available award seats.
Travel less with people since it's easier to book an award flight if you're traveling solo or with just one other person.
Bottom Line
Airline miles can seem mysterious and possibly too good to be true, but they are a legitimate way to get free or discounted flights. How far you want to take depends on how much time and energy you're willing to spend to get those perks from the miles you earn. Check out our full list for more points, miles, bonuses, and other ways to save money deals, check out more on HMB!