For those of you who don't have an account with United MileagePlus, you should create one right now. Currently, United MileagePlus Dining is having a promotion where you can earn up to 2,500 Bonus miles!
This is a great chance for you to eat at one of the selected delicious restaurants that you can dine in and enjoy while still earning your bonus miles. You must sign up before the deadline of January 31, 2019 in order to participate in this bonus. Be sure to take full advantage of this great opportunity today!
United MileagePlus Dining Promotion
Promotion: Earn 2,500 bonus miles

1,000 miles for spending $25 or more at any participating restaurant on your first visit

500 bonus miles on each of your next 3 visits to participating restaurants when you spend $25 or more.

Expiration Date: January 31, 2019
Availability: Nationwide for new customers only.
Additional Requirements: Spend $25 or more on a single dine at a program location and complete your post-dine review within 30 days of joining.
Terms & conditions: This bonus offer is open to individuals new to MileagePlus Dining who create their first online account and link a valid credit and/or debit card by 01/31/19. You may link up to 12 credit and/or debit cards to your account and must continue to satisfy any other applicable membership criteria for the duration of the bonus period, to earn this bonus.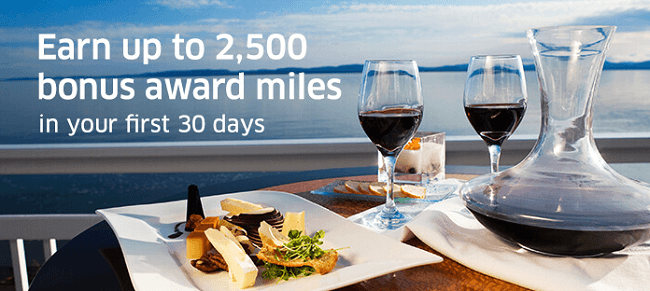 How To Earn 2,500 Bonus Miles
You must first create a MileagePlus Dining profile and register a valid credit and/or debit card.
Within 30 days of creating your profile, you must dine at any participating restaurant, bar, or club and spend at least $25 (including tax and tip) on your check to earn 1,000 miles.
Earn 500 bonus miles on each of your next 3 visits to participating restaurants when you spend $25 or more.
Allow from 6 – 8 weeks after completing purchases in order to receive your total of 2,500 miles!
Bottom Line
Sign up today for MileagePlus Dining to take advantage of the 2,500 bonus MileagePlus miles offer. Dine at one of the delicious participating restaurants and earn your bonus miles at the same time! Use this offer to earn 2,500 bonus MileagePlus miles and save yourself tons of cash on travel! The MileagePlus Dining VIP lets you earn bonus miles every time you spend money at certain restaurants, bars, or clubs. This offer ends soon so check it out as soon as possible! Also, see our full list of ways to earn Miles Bonuses! Check out more ways to Save Money here on HMB!