Unlimited Minutes Sprint Family Plan for only $95, HUGE YMMV. Some reported to have gotten this offer. This is a great deal for people in need of unlimited minutes.
You must talk to Retention only(Dial *2, say Cancel). Ask them about the plan code FC2396
The plan exists, but you must be on the new "Ensemble" new billing system.
Your Mileage May Vary for free internet/text/ etc.
$95 for two lines, each line additional $10 per month.
Proof of the plan: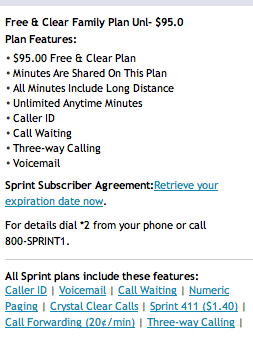 Citi Home Rebate Platinum Select MasterCard
Receive 6% rebate on Utilities, Cable/Satellite TV, Internet Connection and Telecommunication for 6 months
Receive 1% on all other purchases
Rebate automatically applied to your mortgage principal
NO CAP or limits on the amount of rebates you can accumulate in a year
No annual fee