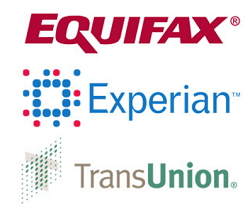 Starting July 1st, 2017 the three major credit agencies, Experian, Equifax and TransUnion, will remove tax liens and civil judgement from credit reports. In turn it could boost credit scores of millions in the U.S. but there's a catch. Tax liens and judgments will only be erased if they don't contain all the following: a name, an address, and either a date of birth or a social security number. Considering that many liens and judgement don't contain all of the information, many peoples' credit could experience a boost.
Credit Liens & Civil Judgments:
A tax liens is a right to keep possession of property belonging to another person until a debt owed by that person is discharged imposed by the law to secure payment of taxes. This is usually a result of a failure to pay income tax or other taxes and if you currently owe income tax or more this update could significantly boost your credit. Civil judgments is a ruling against you in a court of law pertaining to non-criminal matters and is more used for monetary damages. Judgments always have a negative affect on your credit score because they are often result in a debt and usually remain on your credit score for 7 years but with this new update your credit score could receive a boost with the removal of civil judgments on your credit report.

Various Credit Reports:
For those who don't know, you get a credit report from three major credit agencies, TransUnion, Experian and EquiFax and each credit report is used to calculate the your credit score. Each major credit agencies may show different highlights such as how Equifax files' often show an 81-month credit history for your credit accounts, TransUnion has the most thorough employment data section in your summary and how on Experian credit files, you will also see a monthly "Balance History" for any accounts that are still open, or for those closed accounts with an outstanding balance. If you're interested in seeing all three of your credit reports in once place, Experian offers a 3-Bureau Credit Report and FICO Scores bundle. As viewing your credit reports will help you maintain and improve it.
Bottom Line:
With this new update in credit score reports, creditors will see less strikes on your score and better scores that will result in the higher chance of getting a loan, renting a home, and more. This is the latest omission of negative information in FICO scores compilations, such as the removal of gym membership and traffic tickets. Starting July 1, 2017 you can expect a boost in your credit score if you've experienced tax liens and civil judgments. As the three major credit agencies will remove these from credit reports but make note that these civil judgments and tax liens can only be erased if they don't contain all three of these: a name, an address, and either a date of birth or social security number.