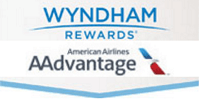 When you stay at Wyndham you can earn 15,000 AAdvantage Miles Bonus, this offer is valid until February 29, 2016. Currently Wyndham Hotels is offering 3,000 bonus American Airline miles instead of points for every stay, up to 5 stays. To participate in this promotion you must first choose within your account to earn miles and opt for American Airlines AAdvantage miles, then register for "AAdvantage Miles Winter Promotion". So if you have a trip in the works this is a great bonus in addition to the AAdvantage miles you already earn. You must register and book your reservations by 2/29/2016, then complete the Qualified Stay by 3/7/2016.
Wyndham AAdvantage Miles Bonus:
Offer: Get 3,000 AAdvantage bonus Miles when you stay at a qualifying Wyndham property during the promotion period, up to 15,000 from the 1st to the 5th eligible stay.
Valid: AAdvantage Miles Winter Promotion ends on February 29, 2016 and registration is closed. All bonus eligible stays at a participating hotel must be completed by March 7, 2016.
Terms: To qualify for the Promotion and earn 3,000 miles per qualified stay a Member must choose to earn with American Airlines AAdvantage miles in their member profile & register for the Promotion during the Registration Period (arrival dates between December 1, 2015 and February 29, 2016). Complete at least 1 Qualified Stay, at a participating hotel by March 7, 2016.  A Member may earn up to 15,000 miles with up to five (5) separate Qualified Stays with a maximum of 3 rooms per stay. Rates offered by most on-line travel agencies and certain other rates do not qualify. Allow six to eight weeks after completion of Qualified Stays for the bonus mile to be credited to their account.
Earn AAdvantage 15,000 Miles Bonus
:
Log In: Register for the 15,000 AAdvantage Miles Bonus Promotion by 2/29/2016.
Complete: Make qualifying stays at participating properties by 3/7/2016.
Earn: Receive 3,000 AAdvantage Bonus miles on every stay, up to 15,000 bonus miles through your 5th stay. Bonus miles will be awarded to the member's account within 6-8 weeks after the qualifying stay.
Pay: Use your AAdvantage Platinum Select MasterCard to maximize your reward in conjunction with this bonus offer.
Bottom Line:
Go register for this Wyndham AAdvantage Miles Bonus and be awarded 3,000 miles for each stay. In addition to the bonus, your miles reward depend on the type of Wyndham brand you choose to stay. You can either earn 2 miles per dollar spent at Wingate by Wyndham, Ramada, Days Inn, Super 8, Baymont, Microtel, Howard Johnson, Travelodge, Knights Inn or 500 miles at  Wyndham Hotels & Resorts, Hawthorn, TRYP by Wyndham, and Dolce Hotels and Resorts. Check our listing of Free Miles, Points, & Rewards!