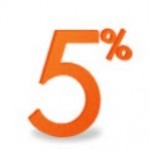 Below is our updated list of 5% cash rebate credit card categories from July 1, 2011 to September 30, 2011 of all major credit card issuers. Many credit card issuers give out cash back rebate cards of 5% on select purchase categories which rotate on a quarterly basis throughout the year. Since you must sign up every quarter, we will update the list and you will find the links all on one place.
We are currently in the 3rd quarter of 2011. You must enroll in their program to earn the 5% rebate in these categories. These 5% rebate categories are for Citibank, Chase, and Discover cash rebate cards. For those who don't mind carry a few credit cards, sign up for all three cards in order to get maximum cash back for all categories.
How to Sign Up for Bonus Cash Back
Usually a few weeks before the new quarter, credit card companies will email reminders to customers to sign up. You must sign up or login in order to get the 5% cash back. We provide the complete of how to in order to make your life simpler. If you are a cardholder, here is how you can find the sign up links:
Chase Freedom Visa $100 Cash Bonus + 5% in Gas, Hotels, and Airlines
Chase Freedom Visa Card is now offering a $100 bonus after $500 in purchases within the first 3 months. Cash bonus of $200 doesn't come very often from Chase so apply today before the promotion runs out. On top of the huge cash bonus, you will earn 5% cash back on certain categories such as gas, groceries, department stores, travel, and so on. The categories change every 3 months with 5% cash back up to $1,500 in for purchases each quarter. You'll get 1% cash back on everything else with absolutely no minimum purchase or maximum rebate cap.
Chase Freedom: Visit the Chase Freedom 5% Cash Back Activation page and enter your last name, ZIP code, and last four digits of your credit card number and you will be instantly enrolled.
Citi® Dividend Platinum Select $150 Bonus + 5% in Airlines, Hotels, and Car Rentals
Citi® Dividend Platinum Select® Visa® Card gives you $150 cash back after $500 in purchases within the first 3 months of account opening along with 0% introductory APR on balance transfers and purchases for 12 months. You will get 1% cash back on purchases and 5% cash back on airlines, hotels and car rentals from 7/1/11 – 9/30/11. There is no annual fee.
Citi Dividend Platinum Select: Log into you Citicards account and click on the bonus cash back link in the account summary page and confirm your signup.
Discover More $50 Bonus + 5% in Gas Stations, Hotels, Movies, and Theme Parks
The Discover More card gives you 5% cash back on various categories throughout the year along with 1% cash back on everything else. You are qualified to get a $50 bonus after $500 in purchases. This card rarely gives out cash sign-up bonus so sign up today!
Discover More: Visit the Discover 5% Cashback Bonus page and log onto your account to sign up.