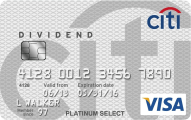 There is a great way for students to build a great credit score and earn cash back rebates through the Citi® Dividend® Card for College Students. This Citibank credit card offers rebates for purchases made, which allows students to gain a lot from big cash returns.
Card Features:
Build credit while earning cash back fast
Earn 5% cash back every quarter in must-have categories like department stores, travel and more, enrollment each quarter is quick and easy.
Earn 1% cash back on all other purchases
The total cash back earned with the card is $300 per calendar year. See Citi Dividend Card Reward Program Information.
Choose your payment due date
Manage your account online, on your tablet or on your Smartphone
No Annual Fee
Click Apply Now for pricing details
The Citi® Dividend® Card for College Students is one of the best student cards with no annual fee. So if you are a responsible student who can easily manage bills and expenses, this credit card could be the perfect way for you to earn some big rebates while building a solid credit score.