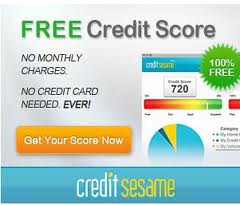 Credit Sesame is a site that offers a free credit score with no obligation of any kind.  Credit Sesame is paid for via partnerships with banks and mortgage companies who pay Credit Sesame if you sign up for a loan or other financial product through the site. The site provides your credit score to you for free, and it also presents some basic details about your score.
If you are interested in reading a Credit Sesame review, you have likely been through some financially difficult times in the past. If you have ever taken out money without being able to pay it back in full or on time, this would impact your credit rating in a very meaningful way. It is important that you make payments on any debts you owe, this would be the easiest way to ensure that you are not suffering from the problems that come with a low credit score for the rest of your life. If you have a poor credit score, you would find it difficult to obtain a loan with reasonable rates. Also, the bank would look to avoid you whenever possible. Obtaining a loan for the purpose of purchasing a vehicle would be next to impossible. Also, you would have a difficult time opening up a credit card account or even arranging to have utility services provided to a property. It is important that you take the steps needed to correct any negative information listed on your credit report. Credit Sesame would allow you to obtain a Free Credit Score that would make it easy for you to see exactly where you stand.
Credit Sesame Account Features:
Protect your financial standing with free credit monitoring
See analysis that shows how you can improve
Get unbiased recommendations to save money
Track your free credit score, every month
If you have been looking for a free credit score for some time, you know that this can be difficult to locate. However, you would be able to use the Credit Sesame service to get your report in a very short period of time. Also, the report that you are provided with would be accurate and up to date. There are many other services that would offer you reports with the wrong information. In fact, this would only make your life more difficult than it needs to be. However, you would not have to worry about that when using this reliable service. Credit Sesame is different because it is free to use while providing you with free credit reports. Also, you would be able to obtain these reports on a monthly basis so that you know exactly where you stand when it comes to your financial life.
How is this Information Helpful?
Applying for a credit card can be a very stressful experience when you do not know what you are being judged on. However, this service would help you to understand the information that lenders are being presented with when looking into your credit history. The ability to access your credit on a more frequent basis would also allow you to reduce the risk that someone would be able to use your identity information for their benefit. If someone is able to gain access to your social security number, they may be able to take out loans and open up credit cards in your name. These debts would become your responsibility because of the fact that they are tied to your identity. The result of this would be financial problems that can make your life very difficult. However, Credit Sesame would allow you to keep your identity secure through free and easy reports.
If you are curious about your credit score but not willing to pay to find out the exact number, Credit Sesame can give you this information for free. This site provides your credit score to you for free, and it also presents some basic details about what goes into your score. Check out this site and figure out your credit score today!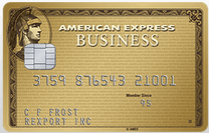 Business Gold Rewards Card from American Express OPEN offers 50,000 Membership Rewards® points after you spend $5,000 in purchases within the first 3 months following approval of your new Card account. You'll also enjoy 3X points (choose 1 out of 5 categories), 2X points on the 4 remaining categories, and 1X points on other purchases. Because of its many privileges, the Business Gold Rewards Card is considered to be the gold standard and targeted at business owners with excellent credit. Card holders can use points to entertain clients, reward employees, reduce travel costs, or just offset the everyday expenses of moving your business forward. There is a $0 introductory annual fee for the first year, then $175. Terms apply.

If you have a side business such as selling on eBay, Craigslist, or do freelance work, then your business is called sole proprietorship. Simply use your name as business ID and Social Security number as tax ID. Apply Now---

Business Gold Rewards Review



American Express is an advertising partner of HustlerMoneyBlog.