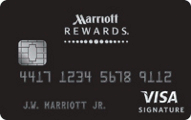 Marriott Rewards® Premier Credit Card from Chase is offering 50,000 Bonus Points after you spend $2,000 in your first 3 months. With every purchase you make, points are earned toward Marriott hotel stays, airline miles, Elite guest services and more. 5 points for each $1 spent at participating Marriott locations and 2 points for each $1 made at retail establishments (those classifying their merchant location for Visa as an airline, car rental agency, or type of dining establishment) are awarded. When the points add up, redeem them for discounted hotel stays, exchange for miles with your preferred airline frequent flyer program, shop online or purchase retail gift certificates, or even gift points to another member or donate to a charity. The possibilities are seemingly endless! There is $0 Introductory annual fee, then $85.

Marriott Rewards Premier Card Features:
Earn 50,000 Bonus Points after you spend $2,000 on purchases in the first 3 months from account opening
Enjoy 1 Free Night Stay at a Category 1-5 location every year after your account anniversary date!
For every $1 spent, earn 5 points at 4,000 Marriott locations, 2 points on airline ticket purchases directly with airlines, at car rental agencies & restaurants and 1 point everywhere else
The fastest way to earn Marriott Rewards points towards free nights
No limit to how many points you can earn
Pay no foreign transaction fees and enjoy wider acceptance when you travel with your embedded chip card and you make purchases at chip-enabled card readers
$0 Introductory annual fee, then $85
Here's Why You Should Apply:
50K Points Signup Bonus– With redemption begins at 7,500 points per night for a Category 1 hotel, you could potentially get up to SIX free nights at a hotel for your 50K bonus points. This is truly an impressive signup bonus that would make your vacation much more affordable.
Premier Extra Perks– Not counting the impressive signup bonus, you get one free night per year awarded on your account anniversary and 15-night credit toward Elite status. The free one-night stay can be at Category 4 hotel which is worth 20,000 points.
Earn Extra Points for Travel– Book at any Marriott hotel with your card, you earn five points per dollar. You'll also earn two points on airfare, rental cars and dining out. Not too shabby.
No Foreign Transaction Fees– The card comes with EMV technology along with no foreign transaction fees. Not having to worry about fraud and 3% fees when traveling abroad will give you peace of mind.
Elite Status– Earn Silver Elite status simply via Marriott Rewards Premier's annual 15-night credit that offers priority late checkout, discounts and more.
If you are a frequent patron of Marriott brand hotels and resorts and The Ritz-Carlton hotels, earn points and status faster with the Marriott Rewards® Premier Credit Card. With over 4,000 participating locations world-wide, the only difficult thing about having this card is deciding where to stay. Start earning Marriott Rewards today! Find All Credit Card Bonuses today!
Disclaimer: This content is not provided or commissioned by the credit card issuer. Opinions expressed here are author's alone, not those of the credit card issuer, and have not been reviewed, approved or otherwise endorsed by the credit card issuer. This site may be compensated through the credit card issuer Affiliate Program.