Find the latest P&G products promotions on Amazon to save money & get rewards, gift cards, printable coupons for toilet paper, laundry detergent, shampoo, baby wipes & more.
Amazon is offering a bonus $20 Amazon credit when you buy $80 in select P&G items. Use promo code PGSTOCKUP for items such as Bounty, Charmin, Pampers, Downy, Always, Crest and many more P&G items.
Get $20 Credit w/ $80+ P&G Products Purchase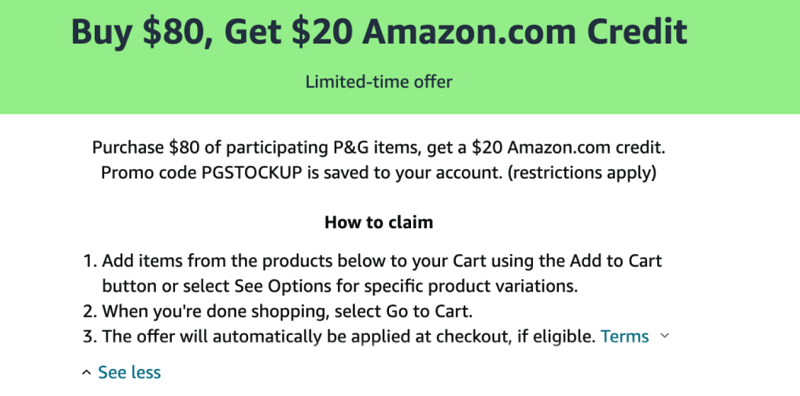 Promotion: $20 Amazon credit when you buy $80 in select P&G items with promo code PGSTOCKUP
When does it Expire: $20 credit will be valid through 12/31/23
How to get it: 

Click the link  to view and make a qualifying purchase.
Be sure to use a rewards credit card to help maximize your savings by earning points/cash back on your purchase.

Terms & Conditions: This is a limited time offer. Promotional credit expires at 11:59 p.m. (PT) 12/31/2023. Offer only applies to products sold by Amazon.com or Amazon Digital Services LLC (look for "sold by Amazon.com" or "sold by Amazon.com Services LLC" on the product detail page). Products sold by third-party sellers or other Amazon entities will not qualify for this offer, even if "fulfilled by Amazon.com" or "Prime Eligible". Offer does not apply to digital content. Offer good while supplies last. Shipping charges and taxes may apply to the full value of discounted and free promotional items. Items must be purchased in a single order and shipped at the same speed to a single address. Offer limited to one per customer and account. Offer may not be combined with other offers. Taxes, shipping and handling, and gift wrap charges do not apply when determining minimum purchase amount. After shipment is complete, you will receive an e-mail from Amazon that indicates the dollar amount of the promotional credit and that the dollar amount of the credit has been added to your customer account. The e-mail will also provide instructions on how to redeem the promotional credit. Amazon reserves the right to modify or cancel the offer at any time. Offer is non-transferable and may not be resold. Offer discount will be allocated proportionally among all promotional items in your order. If any of the products or content related to this offer are returned, your refund will equal the amount you paid for the product or content, subject to applicable refund policies. If you violate any of these terms, the offer will be invalid. Unless an Amazon Gift Card is the stated benefit of the promotion, promotional codes (including those placed directly in accounts) may not be redeemed for Amazon Gift Cards.
(Click above to learn more)
Editor's Note: Stack the above deal with this P&G's $15 rebate when you spend $50 or $5 when you spend $20. So yeah, there are a lot of overlapping products including Bounty, Charmin, Gillette, Old Spice and some more.
---
Get $5 Prime Video Credit w/ $20+ P&G Home Care Products Purchase *Expired*

Promotion: Get $5 Prime Video Credit w/ $20+ P&G Home Care Products Purchase
When does it Expire: June 30, 2022
How to get it: 

Click the link below to view and make a qualifying purchase.
Be sure to use a rewards credit card to help maximize your savings by earning points/cash back on your purchase.

Terms & Conditions: Your $5.00 Prime Video Credit Offer This offer is only valid for customers located and with a billing address in the United States who spend $20.00 on eligible Procter & Gamble Home Care products sold by Amazon.com, Inc. in one transaction between 12:01 a.m. (PT) April 1 2022 and 11:59 p.m. (PT) June 30 2022. Terms and Conditions Offer good while supplies last. Purchase $20.00 of eligible Procter & Gamble Home Care products sold by Amazon.com, Inc. to qualify for this offer. Offer limited to one per customer and account. Prime Video credit must be used by 11:59 p.m. (PT) July 31 2022. The Prime Video credit may only be used once and may not be combined with other offers. Digital content and services may only be available to customers located and with a billing address in the U.S. Shipping charges and taxes may apply to the full value of discounted and free promotional items. The maximum benefit you may receive from this offer is $5.00. You will receive an e-mail from Amazon that indicates the $5.00 Prime Video credit has been added to your customer account. Prime Video credit may only be applied to eligible digital video content sold by Amazon.com Services LLC. Amazon reserves the right to modify or cancel the offer at any time. Offer is non-transferable and may not be resold. Offer discount will be allocated proportionally among all promotional items in your order. Promotional credit does not apply to physical goods. If any of the products or content related to this offer are returned, your refund will equal the amount you paid for the product or content, subject to applicable refund policies. If you violate any of these terms, the offer will be invalid. Unless an Amazon Gift Card is the stated benefit of the promotion, promotional codes (including those placed directly in accounts) may not be redeemed for Amazon Gift Cards. Use of the Prime Video service is subject to the terms found at primevideo.com/terms. To see our privacy policy, please visit www.amazon.com/privacy. To learn more about Prime Video, including how to set up devices, make purchases, and stream video, visit Prime Video Help & Customer Service.
(Click above to learn more)
---
---
Bottom Line
For those looking to save money on Procter Gamble products, Amazon is sure to have the perfect deal for you! If you use gift cards often, then be sure to bookmark this page.