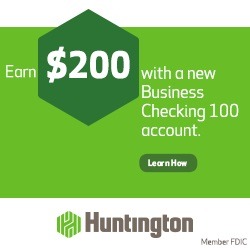 • Open your Huntington Business Checking 100 Account today!
• Earn $100 bonus when you open a Huntington Business 100 Checking account and then make a minimum cumulative new money deposit into the new checking account of at least $2,000 within sixty (60) days of account opening.
• The $100 bonus will be deposited into your account after all requirements are met.
• Overdraft Protection Line of Credit available, or Deposit-to-Deposit Overdraft Protection with no transfer fee.
• Do business without a minimum checking account balance fee or maintenance fee.
• No monthly maintenance fee applies to this account.
• Enjoy up to 100 monthly transactions. And deposit up to $5,000 in cash or currency monthly in-branch or at an ATM at no charge.
• Ideal for start-ups and small businesses with lower balances and checking activity.
• Bonus Service Trial. Free 120-day trial of a fraud tool: Reverse Positive Pay.