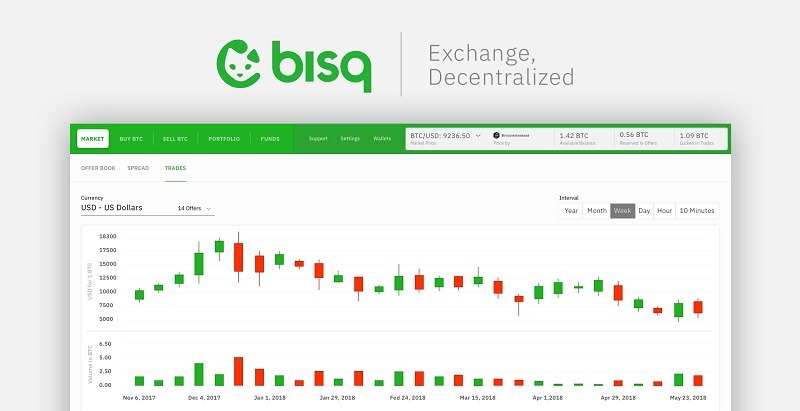 Bisq (formerly known as Bitsquare) is a peer-to-peer (P2P) exchange that emphasizes the tenants of Bitcoin: decentralization, anonymity and transparency. Because they are decentralized, the platform is extremely secure and private, as well as resistant to any censorship. Continue reading to learn more.
See the best bitcoin & cryptocurrency promos here, including offers from Gemini, Coinbase, Voyager and more.
---
Bisq Features
Not only are they a decentralized exchange, but they are really dedicated to the decentralization ideology. Similar to a credit union, Bisq is owned and ran by its members and contributors. This isn't just another cryptocurrency company, it is a community. The P2P software lets you buy and sell cryptocurrencies in exchange for other crypto or fiat money. Benefits include anonymity and increased privacy, lower fees, and complete control of your crypto. Plus, it's open to unbanked users.
Other features include:
No geo restrictions. Bisq does not care where you're from. Anyone with a computer can trade with the exchange.
Instant approval. Like other decentralized exchanges, Bisq does not require any private user information, nor do you need to validate your ID. As such, getting onboard is a quick and easy process.
Simple interface. Most decentralized exchanges have a complicated design that's far from user-friendly. Bisq developers have taken this into account and created a comfortable interface that's easy to use.
Fiat-crypto trading. Bisq members can deposit fiat currencies (bank transfers, Chase QuickPay®, MoneyGram, Revolut, Western Union, Zelle® and much more). But please note, the platform does not allow for credit card deposits.
Crypto & fiat currencies supported. Members can trade over 120 cryptocurrencies, as well as almost the same number of national currencies.
Control over your crypto. A centralized exchange can freeze your funds for a variety of reasons, and there's nothing you can do to stop it. With Bisq, you hold your keys, so you have sole ownership and access to your funds.
To top it off, Bisq is incredibly secure. Here's why:
As we mentioned before, there is no single point to attack on a decentralized network.
The exchange does not store funds anywhere on the site, which means you can't get hacked.
Both parties involved in a transaction are required to make a transaction deposit. In case something goes wrong during the trade, you're insured by the deposit.
Random third parties – called arbiters – are selected to oversee trades.
Your information is stored locally and only pieces are shared with the other party in the transaction.
(Click here to sign up at Bisq)
---
Bisq Fees
When you trade with Bisq, there are four fees to consider:
Trading fee
Mining fee
Returnable security deposit
Bank transfer charges (from your bank, if any)
Bisq fees are listed in Bitcoin or Bisq's native coin, BSQ. If you pay with BSQ, you get about a 50% discount.
Trading Fees Per 1 BTC
| | | |
| --- | --- | --- |
| | BTC | BSQ |
| Maker Fee | 0.2 | 0.0075 |
| Taker Fee | 0.4 | 0.0075 |
The minimum trading fee is 0.00005 BTC.
Mining Fees Per 1 BTC
Mining fees fluctuate with each transaction, so the numbers below are approximates.
| | | |
| --- | --- | --- |
| | BSQ | % OF 1 BTC TRADE SIZE |
| Maker Fee | 8.74 | 0.05% |
| Taker Fee | 61.21 | 0.35% |
Bisq Token (BSQ)
The tokens you earn from using this platform, also known as BSQ, or Bisq Token, is not meant to be taken out and traded outside of this exchange. Instead, this token fuels the network. Those who own BSQ are stakeholders and partake in the governance of the platform. As we mentioned before, exchange fees are lower if you pay in BSQ.
---
Bottom Line
The process of crypto mining has never been easier. Bisq offers a simple device to help you get started on a smaller scale.
With it being completely decentralized, anonymous and safe, users can feel good about investing in the platform. This exchange is particularly good for crypto traditionalists who prioritize security and accessibility.
(Click here to sign up at Bisq)
Click here for free Bitcoin bonuses and other cryptocurrency promotions.