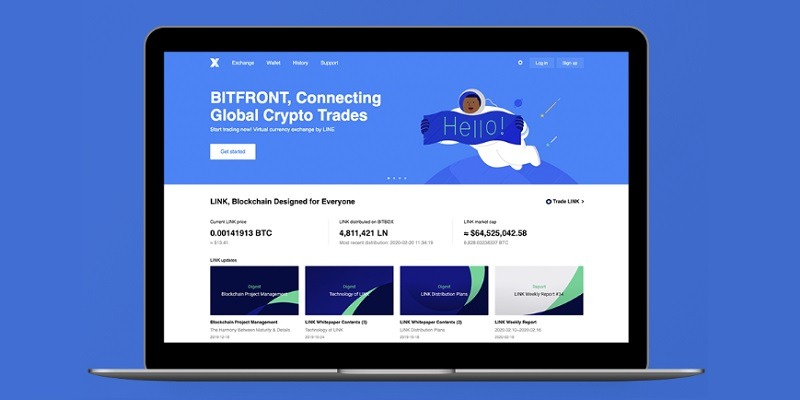 Find more ways to earn money with BITFRONT promotions here!
LINE, the Japanese messaging provider, has worked to launch BITFRONT in the United States. Join in on the growing form of currency exchange through the use of BITFRONT and have access to 5 different cryptocurrencies including LINK and Bitcoin.
About BITFRONT
---
Starting out in 2018 by a skilled team that had years of experience in financial solutions used in the Nordics, BITFRONT deals with the global exchange of cryptocurrency.
The BITFRONT team focuses on service management, consulting and product development. BITFRONT allows their users to trade using their U.S. dollars and linking their bank accounts in exchange for cryptocurrency.
---
BITFRONT Features
---
With more people joining in on the use of cryptocurrency, there are plenty of different ways to exchange it by now. How does BITFRONT stick out compared to the rest? Here are some of their features that make them better than the rest:
User Friendly: BITFRONT is built by a team of experienced people who are skilled to handle a global financial service in high demand. The exchange features the ability to customize Trading View charts, set Stop-Limit orders, and switch to Dark Mode.
Security: BITFRONT is built by LINE's leading security team, which serves 186 million monthly active users. They keep your assets more secure by storing a majority of it offline and keeping a sufficient amount available for you to withdraw at all times. For further enhanced security, the platform also utilizes multi-signature technology.
Convenient Support: BITFRONT offers Live Chat support seven days a week. There are over 15 languages supported on BITFRONT for global traders making it more convenient when users look for support.
---
Current BITFRONT Promotions
---
BITFRONT 20% Interest For Referrals
To celebrate their launch in the United States, BITFRONT is currently having a promotion where you can get 20% Interest For Referrals.
Offer expiration: Limited time only
What you get: BITFRONT 20% Interest For Referrals
How to get it: Simply invite your friends to receive 20% of the interest they would get.
Terms & Conditions: Referral rewards will be paid in LINK (LN). Rewards will be paid out based on the amount of interest your referees receive from their subscribed products within 90 days of signing up. Interest-bearing products with LINK deposits will not be eligible for this promotion. Rewards may take up to a week or longer after the interest payment date to be paid out. You won't be eligible for rewards if you create a new account with a passport that was previously used for identity verification. Any reward amounts must be higher than the minimum set by BITFRONT to be paid out. BITFRONT reserves the right to amend the terms and conditions of this promotion, including reward rates and other details. Referral rewards will be paid out based on the amount of interest earned by active referees, which only includes referees who are subscribed to interest-bearing products that are still valid.
(Visit the link above to learn more about this promotion and BITFRONT)
---
Bottom Line
As cryptocurrency is growing and becoming more common, look into using BITFRONT to earn more money. Keep your money safe from fraud and government interference and take a look at BITFRONT. For more ways to earn more through referrals check out our Best Bank Referrals!