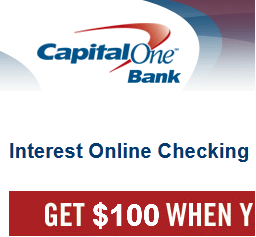 Capital One Interest Online Checking is offering a $100 bonus good only until 1/31/2012 using offer code CHEC168DF. You'll get a 5x the national average for one year – guaranteed. Currently, it's at 0.75% APY up to $100,000 balances. To get the $100 bonus, you must make a direct deposit of $250 or more within 90 days of account opening and make a $500 initial deposit. Enjoy free ATMs and no monthly service fees.
Account Features:
Free Online Bill Pay – Forget mailing paper bills and waiting for checks to clear. With Online Bill Pay it's all taken care of with a few clicks.
Free MasterCard® Debit Card for all purchases – Access your funds for free through more than a million ATMs worldwide and at millions of merchant locations at home or abroad.
Access your account anytime, anywhere – Manage your account online, by phone, or through your mobile phone.
Terms and Conditions:
The payroll/direct deposit promotion begins on 01/01/2012 and ends on 01/31/2012. The promotion is available to new Capital One Bank checking customers only and is limited to consumers who have not opened a personal checking account and received a cash incentive in the previous 12 months. Direct deposit is subject to your employer or other payer offering the direct deposit option. A payroll/direct deposit transaction of at least $250 must post to your account within 90 days of account opening. You will receive a $100 credit to your checking account approximately 8-10 weeks after the first payroll/direct deposit transaction is posted to your account. Accounts must be in good standing (not in default, closed, suspended or otherwise not in good standing) to receive the cash incentive. Tax refunds are not considered an eligible direct deposit to receive this incentive. This offer is valid on personal checking accounts only. You are eligible for this promotion only if you received this offer from Capital One. This offer cannot be combined with any other Capital One Bank new account opening offer and is strictly non-transferable. Limit one payroll/direct deposit incentive offer per account.
Only a couple of days left to apply, so sign up now for this $100 Capital One bonus!