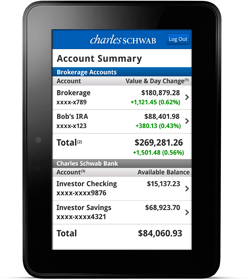 The Charles Schwab Brokerage Account Free Kindle Fire HD Promotion would be ideal for any person that would like to get serious about the way that they are approaching retirement and saving for the future. If you are someone that has put off saving money for many years, it is important that you do not continue to make this mistake. Investing your money would be the best way to limit the impact that inflation would have on your life. Every day that you allow your money to sit around would be one that you are making it even more difficult for you to build upon your financial nest egg. The solution to this problem would be to start placing your money into a brokerage account for the purpose of investing and enjoying profits that can help you to get the money that you would need in order to consider retiring in the near future.
3 easy steps to get the Kindle Fire HD:
Call 800-540-9719 by April 30, 2013, to enroll in this offer.
Make a qualifying net deposit of $50,000 or more into a new or existing Schwab brokerage account within 45 days of enrollment.
Receive a special redemption code to get the new Kindle Fire HD.
When you make a qualifying net deposit of $50,000 or more, you would be able to get a free Kindle device that would offer you the ability to play games, listen to music and watch movies while on the go. This device is considered to be one of the best portable options on the market today. However, this is just a bonus of doing what is needed in order to make sure that you are in the best financial position for many years to come. If you are not currently investing your money, you are making a financial mistake that you are likely to regret in the future. It is very likely that you would be able to turn this investment into the solid foundation that would be needed for you to retire in the near future and remain out of the workforce while living in comfort. Sign up today with Charles Schwab Brokerage account for your Free Kindle HD!