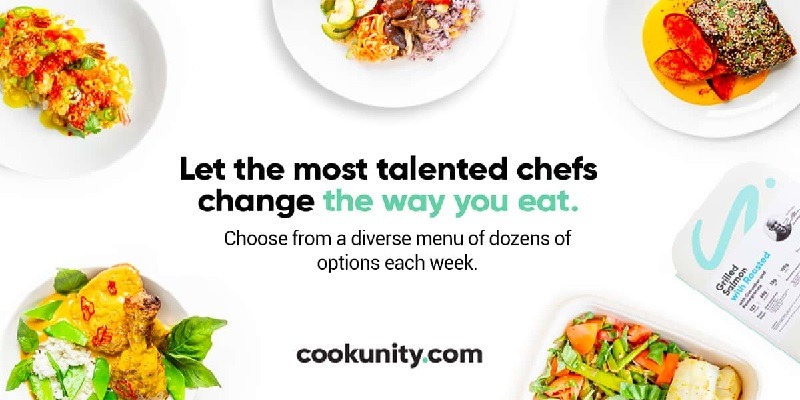 CookUnity is now welcoming customers with a 50% discount on the first week. The meal delivery service is unique because they offer restaurant-quality meals that are handmade by private chefs.
Check out our best food, drink, restaurant, and grocery delivery promotions here. Offers can be found for: DoorDash, Uber Eats, Grubhub, and more.
Remember, CookUnity does not serve all of the United States. Check where they deliver to here. Read below for more information on what they have to offer.
Save 50% on Your 1st Week with CookUnity
For a limited time, CookUnity is giving new customers a 50% discount on their first week. Plus, this offer will automatically apply at checkout.
CookUnity Features
CookUnity is like Uber, but for chefs (some Michelin-starred). They'll prep and cook, and then send the small-batch meals right to your door. Choose from an ever-changing menu of over 250 meals every week.
Types of Food
The meals offers at CookUnity are something you'd see at a nice restaurant. Expect exquisite, yet balanced, dishes. Examples include:
Lamb Kebab with Turmeric Hummus
Lemon Rosemary Chicken with Grilled Asparagus and Mashed Potatoes
Beyond meat tacos with lime crema sauce and pico de gallo
Pesto roasted salmon with ratatouille
Bulgogi ramen
Other than meals, you can also add appetizers, snacks, breakfast, pantry items, and drinks to your CookUnity order.
Ingredients & Sourcing
Delicious meals start with quality ingredients. CookUnity partners with local farmers in the New York City area to source their ingredients that are non-GMO, organic (when possible), and humanely-raised. Partner farms include Eckerton Hill Farm, Lancaster Farm Fresh Co-Op, Satur Farms, and Summer Wind Farms.
Meal Plans & Diets Covered
CookUnity covers a variety of diets like:
Plant-based
Vegetarian
Low-carb
Low-calorie
High-protein
Paleo
Keto
All dishes will list any food allergens like: nuts, dairy, gluten, etc.
Other Features
We also like that CookUnity:
Lets you speak directly with the chef who is preparing your meal.
Provides health coaches to help craft your meal plan.
Conclusion
CookUnity is a pre-made, restaurant-quality, meal delivery service. Now, you can save 50% on your first week with their offer.
Check out Freshly as well. Currently, they are providing a $40 discount on your first two orders.