Do you shop online at all? Doesn't matter because I'll show you a quick and easy way to make $80 free money with very little work! However, you will need 3 people to get $80 free cash! Ebates, an online shopping cashback site, offers $10 gift card(Walmart, Macy's, Target) after you make your first $25 purchase. Ebates.com is FREE to join, plus you get a FREE $10 Gift Card, and Earn Cash Back for shopping at some great stores! Right now, you can also refer two friends and make $50 cash bonus. They will need to make a $25 purchase through their account in order to activate your referral bonus. They will also make $10 each after shopping through their shopping network.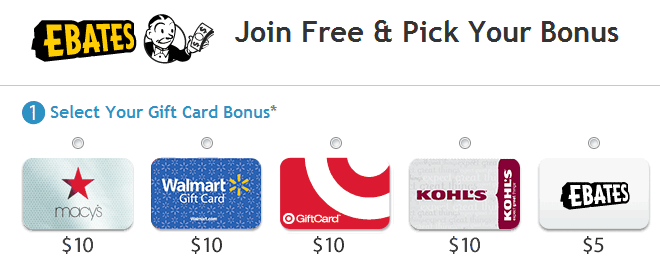 Ebates Online Shopping Cash Back $80 Bonus:
Step 1: Join Ebates FREE for online cash back shopping, pick a FREE $10 Gift Card($10 Target, $10 Walmart, $10 Macy's, $10 Kohl's), and make your first $25 dollar purchase to activate the bonus. (Not sure what to buy? Get a gift card from Best Buy, or Amazon, or whatever store you shop frequent the most)
Step 2: Within your Ebates account, Click on the Refer-A-Friend button and send out two referrals(friends or family members), and tell them to pick a $10 gift card and do the $25 purchase requirement for bonus activation.
Step 3: Once everyone make their $25 purchase requirement, all bonuses will be activated. Math: Your $10 gift card + Friend 1 $10 gift card + Friend 2 $10 gift card + $50 referral bonuses = $80 Bonus Money!

Not only is Ebates.com a great online cash back shopping source, they provide users with access to hundreds of coupons, rebates, and cash back rewards. It takes less than 10 seconds to create an account to get your first $10 gift card bonus! Then follow the steps above and refer two friends to make an additional $50 referral bonus money.  Visit Ebates to get your cash back bonus today! See our full list to Make Money Online!

Hot Deal of the Day: Personal Capital offers $10 Bonus with a new account. They help you with your finances to develop long term goals and investment plans.