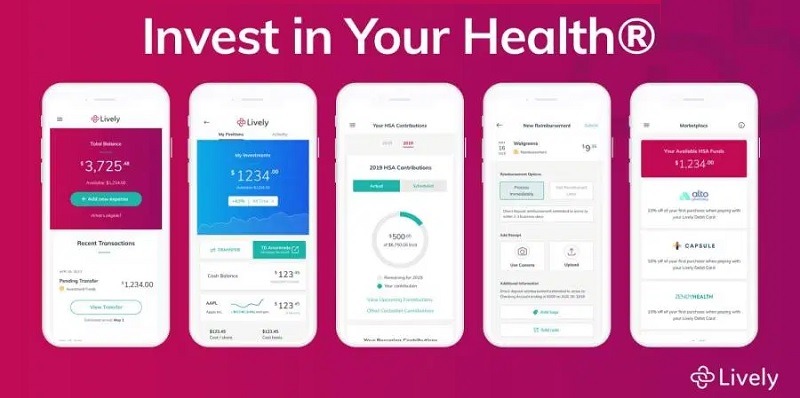 Check out the latest Lively Health Savings Account Promotions, Bonuses, and Offers here.
What is an HSA? It's a type of savings account that allows you to set aside pre-tax money for qualified medical expenses. Start bringing HSA in the modern era with Lively and make it easy to save costs of health.
It's simple to invest your HSA funds with Lively, plus you can take advantage of a variety of investment options, including individual stocks, bonds, CD's, over 100 commission-free ETF's, and more than 13,000 mutual funds.
If you're interested on opening an account with Lively, continue reading below for more promotions and learn how to earn bonuses! Start planning your insurance today and make healthcare easier!
Note: Check out the following cards to earn one of the best flat cash back opportunities across all purchases: Wells Fargo Cash Wise card, the Chase Freedom Unlimited card, or the American Express Cash Magnet card! For a wider variety, see more credit card bonus offers here.
---
About Lively Health Savings
---
Lively makes it easier to manage rising costs through Health Savings Accounts (HSA) that help people allow save on costs of healthcare. They offer health savings accounts that has no fees, earn interest and free investments access.
Once you open an account, you get a debit card to pay for qualified medical expenses and you can invest your contributions into no-fee ETFs. It's good to know that your account is fully insured by the FDIC.
Lively Top Features
Savings AccountNo FeesDebit CardQualified ExpensesInvestments
All contributions to your Lively HSA will automatically earn interest:
0.25% APY for less than $2,500
Up to 0.60% for more than $15,000
There are no fees of any kind, including:
Monthly maintenance
Account opening
Account closing
Funds transfer
Debit card (up to 3)
Excess contribution
Point-of-sale
Minimum balance
Reimbursement
Investment access
You'll get a debit card that will let you have access to the money in your HSA. You can use it to pay for your medical expenses.
Lively comes with a tool that helps identify what is considered a "qualified medical expense." The tool tells you if the item can be purchased with your Lively debit card.
You can also buy from the HSA Store, which stocks HSA-compliant items and it's accessible through your Lively dashboard.
It's easy to invest your HSA contributions using the TD Ameritrade investing platform. Moreover, Lively doesn't require you to have a minimum contribution to invest, unlike, many other HSAs who does.
---
Current Lively Health Savings Promotions
---
*Up to $20 Sign-Up Bonus*
You can get up to $20 when you open a Lively health savings account using an active member's referral link. Earn your first $10 when you contribute at least $1,000 within your first 90 days, get your second $10 bonus when you maintain an average daily balance of at least $2,000 in your first 12 months.
(Learn more about Lively and their program)
---
*$20 Referral Offer*
For each successful referrals, you can earn a $20 bonus when they sign up using your unique link. You referral will also get a $20 bonus for signing up.
* Please note that this referral program is only open to select members on a limited-time basis.
What you'll get: $20 bonus for each successful referral

You can only earn up to $599 in referral bonuses within one calendar year.
You will receive your referral bonus by direct deposit.

Who is eligible: Current members with unique links
Where it's available: Lively HSA referral program
How to earn it: 

Login to your Lively HSA and click on the 

'Invite Friends'

tab from the menu.

If you don't see the tab, the referral program is not available at the moment.

Share your unique referral link to your family and friends!
Receive $20 bonus for each person that:

Open Lively HSA using your unique referral link > Make deposit of at least $1,000 within 90 days > Maintains an average daily balance of at least $2,000 in their first 12 months.

Offer terms: To receive your bonus, you must have an active Lively account and a valid United States bank account linked to your Lively account.
---
Bottom Line
Lively's pricing is affordable with its fee-free services and their investment options with TD Ameritrade, both are an example of great combination of low cost and high quality. Lively is considered one of the best HSA providers at the moment.
If you're interested in learning more about investing and financing in the future, you can also check out the Best Brokerage Bonuses and the Best Banks Rates and Savings accounts here!