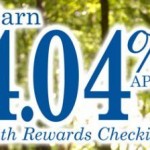 Most people only earn a little over 1% on their savings account with today's economy. However, some manage to get over 4% APR on their hard earned cash and you can too with Rewards Checking Account. To find out which local bank in your area offer Rewards checking, visit Deposit Accounts to find the best rates to do a local search.
The usual requirements consist of ACH transfer or auto debit, paperless statement, and 10-15 debits requirement.
The debit requirement is the toughest since you must use your debit card. Here's a list of how this can easily be done.
1. Find at least 10 donation websites that will auto debit $1 per month. By using this method, you do it once and forget about it. However, you will be donating at least $10 per month.
2. When go grocery shopping or Walmart, find a self-checkout lane and pay each item individually until you get your requirement.
3. Pay your cable bill, electricity bill, phone bill, etc at $1 or $5 increment. No need to leave the house and do it at the comfort of your house.
4. When you pay gas at a gas station, pump $1 or so at a time to meet your requirement. It may be long, but you will get everything done in one stop.
5. Use your card as your regular check card whenever buying small purchases such as coffee, fast food, and so on.
Talk more about this Rewards Checking debit strategy to earn maximum interest in our Forums!