Prosper $25 Lender bonus is set to end on June 30th 2008. Sign up now before it's too late. Remember, you must fund and lend $50 to get $25 bonus. I have already made my money back and more.
What is Prosper?
It's a peer-to-peer lending service. You can make up to 15% in return. Just like any investment, it's not guarantee and money is locked in for 3 years. Your best bet is to only lend people with credit rating of AA, A, or B to get your money back ASAP.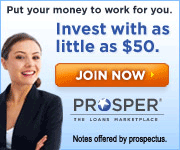 How to get $25 bonus?
I just open a Prosper account using their Refer a Friend Program. If you open right now through my referral link https://www.prosper.com/join/Hustlermoneyblog, you will make $25 bonus after lending the first loan. The first loan can be as low as $50, hence you can withdraw your bonus money giving 100% return on your $25 investment since you have $50 in your account. In return, I'll get $25 from Prosper. Blogging ain't easy, so hook your boi up with 25 dollars by going through my referral link. You can make more money by referring your friends and family, especially if you have a blog like mine. Much appreciated.