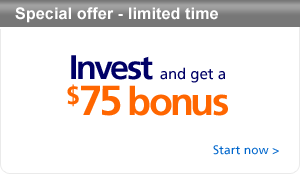 Get a $75 bonus with a ShareBuilder Account using offer code EXTRA75 with $100 Deposit from now until December 31, 2011. You would normally get a $50 bonus code with the above link, so make sure to replace offer code 50wsb4 with EXTRA75 after hitting the START button. There is no trading requirements to get this $75 ShareBuilder Bonus.
Terms and Conditions:
You must open a new ShareBuilder account and deposit $100 or more to be eligible for this promotion. Initial deposit must be completed by 12/31/11. ING DIRECT Investing will deposit a $75 bonus approximately 4-6 weeks after your first $100 deposit. The $75 bonus offer is available for Individual, Joint and Custodial accounts only. Offer not valid for IRAs or ESAs. The $75 bonus is not available for withdrawal for 120 days after it is awarded to your account. This offer is not valid with any other offers and is non-transferrable. Limit one ShareBuilder account bonus per unique customer or custodial beneficiary. We reserve the right to terminate this offer at any time and to refuse or recover any promotion award if we determine that it was obtained under wrongful or fraudulent circumstances, that inaccurate or incomplete information was provided in opening the account, or that any terms of our Account Agreement have been violated. Offer expires 12/31/11.
Again, make sure to replace the code with EXTRA75 where it asks for promotion code on the second page of your application. Apply by December 31st to get the $75 bonus when you deposit $100 in a your ShareBuilder account