How much do you pay for your family phone plan? I would imagine it to be at least $100 a month. With today's hard economic uncertainty, I think you could do better with a Sprint family plan. My family plan consists of five phone lines with 2000 shared minutes, free text, free internet, free 6pm and weekends, etc. On average, we pay around $35 a month for everything. I kid you not! Yes, only $35 a month or less for five phones. This hustle is no walk in the park. It takes a certain gung-ho mentality, but it doesn't hurt to try. I can't guarantee it will work for you, but here it goes.
With Sprint, you get 30-day free trial. This means that if you don't like it, you can always cancel your services without paying the early termination fee. Hence, if it doesn't work within the 30 days, cancel your plan without paying anything.
Order through this special  Sprint Link and check the Sanyo S1. *You must pick this one so they won't make you add the $30 Power Plan extra.
On the next page, under Carrier Selected, Click Family Plans and choose $69.99 per month.
Uncheck the $15 data plan and text messages. Pick the None box.
Checkout should be $69.99 plan with $18 activation fee for both phone.
Don't worry about the plan right now. The hustle will be later. If you want the free Sprint Centros, then get those and then worry about canceling the $30 data plan with Sprint later. Again, you have a 30 days free trial. Even if you get the Sanyo S1, you can always get a better phone later with Sprint.
Once you get your phones through the mail, call sprint by dialing *2 to activate the phone. Once you get the phone, call #733 to get you and your friend a referral credit. Just enter your friend's sprint phone number, and you both get $25 Sprint credit.
Here's another $50 bonus from Upromise:
Sign up upromise.com.
In your account, under EARN on top corner left, click on OTHER SERVICES.
Then at the bottom of the page under Personal Services, click on Sprint.
You will register your new Sprint number to get $50 and will be credited in 30 to 60 days.
Then use this Upromise Request Form to get your money mail to you.
Use these links to get company discount from your job on your Sprint bill:
https://www.sprint-discount.com/
https://www.evpdiscount.com/
That's part 1 of the Sprint family plan hustle. I will write part two tomorrow with info on how to get $50 a month family plan for 1000 minutes, with bonus 300 minutes for each phone. How to get free text, free data, free 6pm and weekends, etc. How to get better free phones, free $10 service credit a month, another free $5 paper switch, loyalty discount, and add 3 more lines for free with free phones. Also, more hustles on how to get free phone every 6-month per line and get $70 credit each month for free. Yes, unbelievable right? Some months, I don't pay anything. All of this is legit. Still don't believe me? Here's my bill from last month: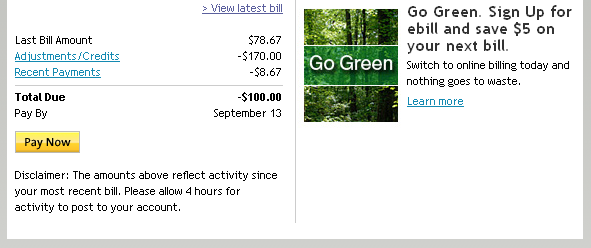 $78.67 is the monthly charge. They charged my CC $8.67, but gave me $170 credit. Now I have $100 credit for next month bill. I'm not here to brag about my bill. I'm trying to save all my readers money. You know my philosophy: Maximize your income, minimize your bills.