The editorial content on this page is not provided by any of the companies mentioned, and has not been reviewed, approved or otherwise endorsed by any of these entities. Opinions expressed here are author's alone.
Learn more about this card and its features here.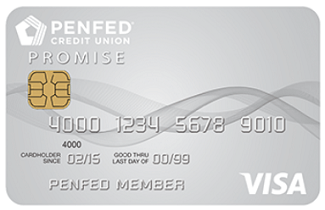 The PenFed Promise Visa® Card is a basic no-fee credit card for cardholders who are struggling with debt or don't use their credit card enough and don't want fees. This card has no late fees, balance transfer fees, cash advance fees, foreign transaction fees, or penalty APR. It currently offers a sign-up bonus of $100 after spending $1,500 in purchase transactions within 3 months of account opening.
The drawback is that this card offers no rewards. If you do pay your bills in a timely manner, you're better off with a card that offers rewards. However, if you are looking for a card to just build up your credit and you are a PenFed Credit Union member, read on to find out more about the PenFed Promise Visa® Card.
---
PenFed Promise Visa Card
---
Why You Should Apply for This Card:
Sign Up Offer: Earn a $100 bonus after spending $1,500 in purchase transactions within 3 months of account opening.
Absolutely No Fees:
No Annual Fee: Many cards carry an annual fee whereas the PenFed Promise Visa® Card does not.
No Foreign Transaction Fee: Almost all major banks charge a foreign transaction fee for any charges processed outside the US. A few other cards aimed at travelers have just begun to waive their foreign transaction fees. This card is one of the few cards that does not charge this 3% credit card fee.
No Balance Transfer Fee: This is a big thing because the fine print of almost every credit card includes a 3% balance transfer fee. That might not seem like much, but a large transfer can be costly. Depending on which card you're transferring your balance to, that fee could be more than the interest you would save. No fee means that transferring your balance here should be an easy decision.
No Cash Advance Fee: Although turning your line of credit into cash isn't usually the best choice, if you're in a pinch and need some quick cash, the PenFed Promise Visa® Card is a great card to use to do so. Most credit cards charge a fee of 3 – 5% of the amount advanced and impose a higher APR on cash advances. This card does neither, but keep in mind that you'll still have to pay interest on the cash advance. Make sure you pay it off as soon as possible.
No Late Fees & No Penalty APR: This is virtually unheard of in the credit card industry. Perhaps you've lost your job and can't afford to pay your bills, or you've had a busy week and forgot to make a payment by the due date. Most cards will increase your interest rate when you miss a payment, but the PenFed Promise Visa® Card does not.
Bottom Line:
The PenFed Promise Visa® Card is open to PenFed Credit Union members. If you're interested in this card, but you are not a member, membership is open to members of the US military, government employees, employees and volunteers of The American Red Cross, and household and family members of these organizations. If you don't qualify for any of these, you can still be part of PenFed Credit Union by joining and becoming a member of Voices for America's Troops for a one time cost of $15. This credit card is perfect for someone who seldom uses credit cards or if you carry balances on your credit cards and are trying to get out of debt. Its no-fee approach and low interest rates gives you flexibility that other cards are likely to charge you for. However, if you plan to use your card regularly or you're looking for perks for travel and purchasing, applying for a rewards card is a better option. Check out our complete list of credit card bonus promotions to find the one that suits you.
Learn more about this card and its features here.
Many of the listings that appear on this website are from companies which we receive compensation. This compensation may impact how and where products appear on this site (including, for example, the order in which they appear). The site does not review or include all companies or all available products.