The highest bonus offer for the American Express Platinum Card can vary and is subject to change. American Express periodically offers sign-up bonuses for new cardholders who meet certain spending requirements within a specified timeframe. These bonuses can range from a certain number of Membership Rewards points to hundreds of dollars in statement credits.
American Express Platinum Card 125K MR Points Bonus (*Right click, Make sure to open in Incognito mode to see the offer. May need to refresh or open in different browsers)
American Express Platinum 125K MR Points Bonus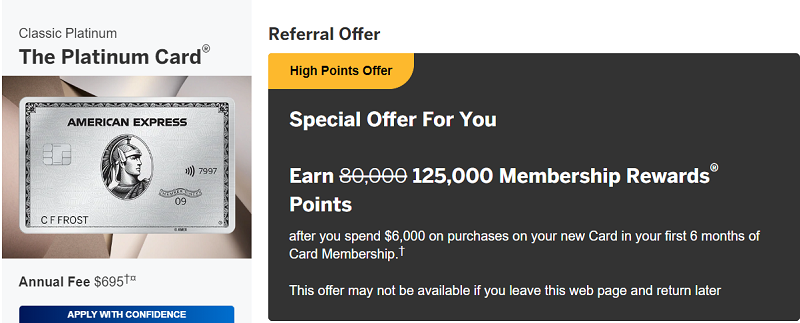 At the moment, the American Express Platinum Card is offering a 125,000 Membership Rewards points after spending $6,000 in the first 6 months of card membership. However, this offer is subject to change and may not be available at all times. It's also worth noting that the terms and conditions of the sign-up bonus, including the required spending, can vary based on the current promotional offer.
If you're interested in obtaining the American Express Platinum Card, it's a good idea to check the current sign-up bonus and compare it to other available credit card offers to determine which card best fits your financial goals and spending habits.
The American Express Platinum Card is a premium credit card that offers a variety of benefits to cardholders. Some of the most notable benefits include:
Rewards: The American Express Platinum Card offers Membership Rewards points, which can be redeemed for travel, merchandise, or statement credits.
Travel benefits: Cardholders receive a number of travel-related benefits, such as airport lounge access, hotel elite status, and annual travel credits.
Premium perks: The card also offers a range of premium perks, such as access to the Global Dining Collection, which includes exclusive dining experiences, and the Platinum Concierge service, which can help you with everything from restaurant reservations to purchasing tickets for events.
Statement credits: The card offers annual statement credits for certain purchases, such as airline incidental fees, Global Entry or TSA PreCheck fees, and more.
Global Acceptance: American Express is widely accepted around the world, making it a convenient choice for international travel.
It's important to note that the American Express Platinum Card also has a high annual fee and a high interest rate, so it may not be the best choice for everyone. However, for those who are able to take advantage of its benefits, the card can provide significant value.