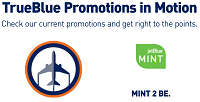 To promote their new MINT 2 BE flights JetBlue offers Double TrueBlue Points for on all one-way or roundtrip Boston Mint Flights until April 30, 2016. You must first register prior to all flights to earn base points on the base fare and an additional 2X bonus points. Then simply book on jetblue.com and fly by 4/30/2016. There is no cap, you will earn double points every time you flight a Mint flight via Boston for the entire month of April. If you're not already a TrueBlue member, sign up below which will automatically register you for this promotion. If you're already a TrueBlue member, simply input your last name and TrueBlue login when registering.
TrueBlue Points Boston Mint Flights Offer:
Promotion: Earn 2x TrueBlue points on base fare when you register, book and travel on Boston Mint Flights within the promotional periods.
Valid: 4/30/2016.
Terms: You must register for this promotion prior to booking eligible travel. Offer valid only for JetBlue Boston Mint flights (one-way or roundtrip) that are purchased and flown during the promotional period. TrueBlue number must be entered at time of booking. New bookings only. There's no limit on the number of times you can earn double points during this period.
Earn 2x JetBlue TrueBlue Points:
You must first Register prior to any bookings for your eligible flights to earn double points.
Book your Boston Mint flights via jetblue.com and complete your travel by the end of April 2016.
Don't forget to enter your TrueBlue number when you book.
Pay: When traveling use Chase Sapphire Preferred to earn the most rewards be it flights, dining or lodging.
Bottom Line:
This JetBlue Double TrueBlue Points on Boston Mint Flights is a nice deal if you live in the New England area or fly with this carrier frequently. If you are new to TrueBlue you can score a Bonus 400 Points for sign up & completing a survey, hurrah for procrastinators. If you are flexible in your travel days then use the JetBlue Fare Finder to maximize your savings. Just be sure to use Chase Sapphire Preferred when booking so that you can earn as much points as possible on travel, that includes hotel, restaurant and rental cost. Check out more ways to earn Points, Bonuses & Miles!