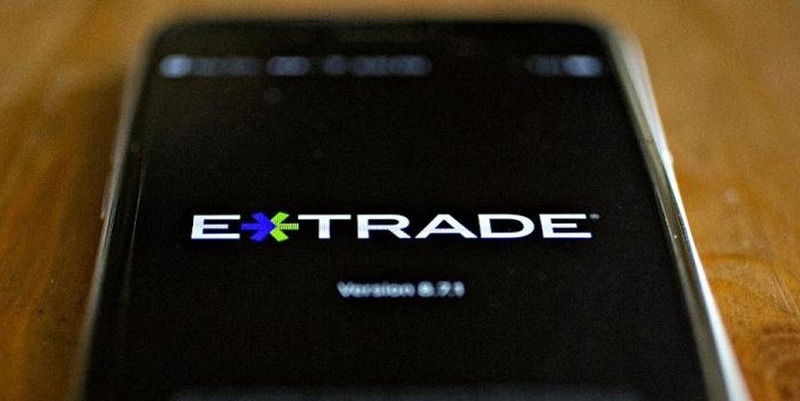 As technology gets better and better, so does everything else around us. Back in the olden days, people who wanted to invest in stocks would have to physically go the the stock market in order to trade stocks. That is all in the past now thanks to companies like E*Trade offering mobile stock exchange apps that anyone can use.
E*Trade has always been on the forefront of trading technology, so it makes sense that their app is one of the best to trade with if you like to trade on the go. Whether you are a full time trader, or just a casual trader, investors that tend to trade from their tablets or phones will be thrilled to see the app's advanced features from access to real-time quotes, analyst reports, stock and ETF screeners and options chain filters. The E*Trade Mobile app really is for traders of every kind.
Editor's Note: Currently, there is a promotion where you can open a new account with $10,000 or more and get 60 days of free trades, plus cash bonuses on deposits of $25,000 or more.


• $0 Commissions for online stock, ETF, & options trades. Join E*TRADE today!
• Receive up to 500 commission-free stock and options trades
• Can roll over your 401(k) or other employer sponsored-plan
• $0 per trade; $0.65 Options Contracts





E-Trade's Mobile App Is Best For
Frequent traders
On-the-go traders
Mutual fund investors
ETF investors
IRA accounts
E-Trade's Mobile App Details
Tradeable Securities

Stocks
Options (complex options, mini options)
ETFs
Mutual funds

Account Minimum
$0
Account Fees
$60 full transfer out fee
Stock/ETF Commissions

$9.99 for fewer than 150 trades per quarter
$7.99 for 150 to 1,499 trades per quarter
$6.99 for 1,500 and more trades per quarte

Commission-free ETFs
More than 100
Options Commission
$9.99 + $0.75 per contract
Platform Type*
iOS (including Apple Watch), Android, Amazon, Windows Phone.

*MOBILE CAPABILITIES VARY BY PLATFORM; SOME PLATFORMS DO NOT OFFER ACCESS TO ALL FEATURES

Check Deposit
Yes, up to $10,000 per day
Where E-Trade's Mobile App Shines
Data and Research. The E*Trade mobile app offers real-time quotes and news from reliable sources such as Morningstar, MarketWatch, Briefing.com, CNBC Video on Demand, analyst reports and Level II quotes. Additionally, the app comes with a barcode scanner, so people can scan the codes of some their favorite products to get information about the (publicly traded) company that makes them.
Web-level capabilities. Most of E*Trade's educational and trading tools that investors are used to using on the desktop site, such as comparison charts and performance-over-time charts, use stock and ETF screeners and options chain filters, customize watch lists, and extend the expiration date of options with the app's option roll tool, are all available on the mobile app. The app syncs up with your desktop account, so users can pick up where they left off.
Easy trade execution. Similar to E*Trade's desktop site, the mobile app has all of the same capabilities in terms of trading as its desktop counterpart. Users can trade stocks, mutual funds, ETFs and options, including multi-leg options orders. With the addition of voice recognition software, users can simply talk to pull up stock quotes, company data, and even start an order ticket.
Availability. Currently, the app is available on virtually every device, including the Amazon Fire Phone, Windows Phone and Apple Watch.
Where E-Trade's Mobile App Falls Short
Limited features on some platforms. Some of the features you may have access to on the desktop site may not be present on certain devices. Although Apple devices and most Android devices are safe because they offer so many features, devices such Windows phones and tablets may miss some of the bigger features found in more popular and up to date devices. Key features, including stock and ETF screeners, CNBC video, Level II quotes and customizable watch lists, are only available on the Android, Amazon Fire and iPhone apps. Be sure that the features you'll use most are available for your device before considering this route.
Bottom Line
Although E*Trade's commission structure can make trading pricey for the infrequent trader, the mobile app makes up for it by being convenient and available even when you're not. The E*Trade Mobile App is still one of the best out of the three platforms when stacked up against its competitors, so it is a viable option for investors who want to trade on the go.
To get the best of both worlds, people will opt for a hybrid approach, using both the desktop site then continuing on the mobile app. With this combination, you will always be connected to the stock market and be able to manage your portfolio with ease. If you're interested in posts like this, check out our list of E*Trade Promotions and the Best Brokerage Bonuses, here on HMB!