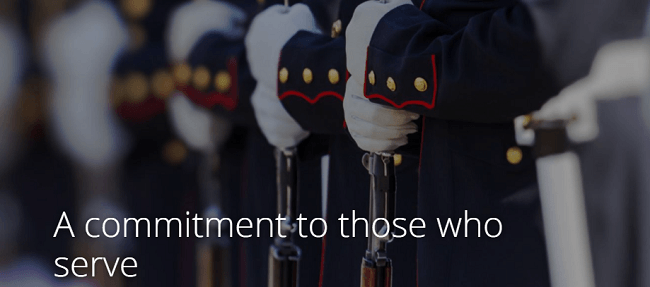 Losing a loved one as a result of their military service is already a devastating event and any type of debt left by them means that you are now responsible for. Chase proves that their commitment to our nation was not in vain through Chase's Military Survivor Program.
The goal of the program is to help surviving members and beneficiaries by voiding the debt of military customers who have passed as a result of combat action or military service since January 1, 2011. With the help of Chase, you won't have to shoulder that burden alone, or shoulder the burden at all.
Surviving family members of military customers may benefit from this program to lessen this financial burden as long as you have the right tools and documents to apply. If you need a fresh start at banking, then check out our review of the Chase Total Checking® + Chase SavingsSM and for more Premium banking services, you may want to consider the Chase Premier Plus CheckingSM.
Documents Needed to Apply
You will need a few forms and required documents to begin and are as listed below:
Department of Defense Report of Casualty Form (DD 1300)
Copy of the clerk of court court-certified letters of executor or a similar document showing you have the authority to act on behalf of the borrower's estate.
Any loan-related documents, especially if you have an account number to reference.

Who Benefits From the Program
Typically immediate family members including spouses, children, and other family members who may have cosigned a loan with the military member will benefit from debt forgiveness.
Anyone that has been affected by the passing of their loved one serving in the military and has debt through Chase will greatly be at an advantage with the Chase Military Survivor Program. Any type of needed assistance is beneficial, so share this program to those who really need it.

Debt That Can be Forgiven
If the service member was liable for debt, the balance may be canceled for a majority of existing Chase mortgages, auto loans, credit cards, student loans, and other consumer or business debt. Note that not all debt of the be passed member will be eliminated but a great deal of it may be. Debt cancellation may be available for these products:
Home Lending:
May be applied to existing balances of all residential properties at the time of application to the program.
Property must be a 1-to-4 unit residential property or manufactured housing.
Auto Finance:
Existing auto loan balance may be canceled and may be able to keep the vehicle
In the case of an auto lease, survivors may apply to assume the lease and retain the vehicle or they may return the vehicle without being subject to fees or penalties.
Learn more about Chase Auto Direct.
Credit Cards:
May be applied to any Chase credit card
Jointly liable surviving spouse can request to automatically change liability and retain card privileges.
Student Loans:
May be applied on any Chase private student loan.
Consumer Banking:
Business Banking:
Survivors may be eligible to have at least some of the existing business loan or line of credit balance canceled.
Service members' business debt may be canceled in proportion to their ownership interest in the business.
Chase also offers Business Employee Deposit Cards and Business Payment Solutions.
Tax Implications:
Debt cancellation may have tax implications when it comes time to file your tax return. Please consult your tax advisor.
Be Wary of Tax Implications
Debt forgiveness is a liberating feeling, but be careful of any tax implications caused by the it. The debt forgiveness amount can be taxable in certain situations. Any canceled or forgiven debt means that you will receive a Form 1099-C or Cancellation of Debt.
You must include the canceled amount in gross income unless you meet an exclusion or exception. Be sure to keep track of all documentation if your debt is forgiven and contact your tax advisor to learn more about how it will affect your income tax.
Bottom Line
Dealing with a death of a military service member is not an easy feat and any debt left by them may further increase your financial burden and obligations. If they had any debt as a Chase customer, you will want to know about the Chase Military Survivor Program. In order to support the family of our troops, Chase set up this debt forgiveness program to help the surviving family members.
Just make sure that your family member's debt is eligible by checking with the details above. If you don't have a bank account, head to our full list of Chase Promotions for a detailed review of the best Chase accounts. You can also check out some of the Best Chase Credit Card Bonuses. Don't forget to check out our Best Military Discounts page so you can stay informed and save money at various places!