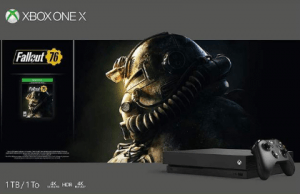 Get one of the greatest games of the year bundled with one of the best gaming consoles ever made with this hot deal from Newegg! Currently, they are offering the Xbox One X Fallout 76 Console Bundle for only $350 + Free Shipping!
The Xbox One X is the latest version of the beloved Xbox that has captivated homes for years now and the upgrades are more than worth the price. Not only are you getting one of the best devices to play games on, but you're also getting a triple-A title with stunning graphics to complement the powerful gaming console. Buy this bundle now while they're still in stock!
Xbox One X Fallout 76 Console Bundle Features
Bundle includes: Xbox One X console, wireless controller, full-game download of Fallout 76, 1-month Xbox Game Pass trial, and 1-month Xbox Live Gold.
Xbox Live Gold required to play game (sold separately, 1 month included).
Multiplayer comes to the epic, open-world Fallout RPG series from Bethesda game Studios
Use the construction and assembly mobile platform (C.A.M.P.) to build and craft anywhere in the world
Experience the largest, most dynamic world ever created in the legendary Fallout universe. All-new graphics, lighting and landscape technology brings to life six distinct West Virginia regions. From the forests of Appalachia to the noxious crimson expanses of the Cranberry Bog, each region offers its own risks and rewards.
Go it alone or team up with fellow survivors to unlock access to the ultimate weapon-nuclear missiles
Bottom Line
If I were you, I'd take advantage of this deal from Newegg now! Score the Xbox One X Fallout 76 Console Bundle for only $350 + Free Shipping! You can get the new and powerful Xbox One X, a one month game pass trial, and a one month Xbox Gold membership for an astoundingly low price.
Don't miss out on this limited time offer, we don't want you to miss out on this amazing deal! If you love finding deals like this, be sure to check out more on HMB! You can also check out other Hot Deals!